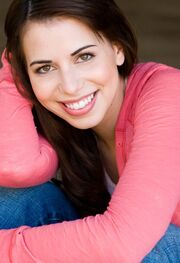 Laura Dawn Bailey (born May 28, 1981) is an American actress who provides voices for a number of English-language versions of Japanese anime films and television series as well as voice roles in cartoons and video games. She voices Serah Farron from the Lightning Saga and the Cloud of Darkness from Dissidia Final Fantasy.
Roles
[
]
Background
[
]
Laura Bailey's roles in non-Final Fantasy Square Enix projects include Lust in Fullmetal Alchemist and Maka Albarn in Soul Eater, Kainé in NieR, and Reimi Saionji and Welch Vineyard in the Star Ocean series.
Her notable roles include Natasha Romanoff in Marvel comic animated adaptions since 2013, Kushina Uzumaki in Naruto, Kid Trunks in Dragon Ball Z, and Shinnosuke Nohara in Crayon Shin-Chan, the last of which she also served as the line producer. In video games, she provides the voice of Rayne in the BloodRayne series, Chun-Li in the newer titles of the Street Fighter series, Rise Kujikawa in Shin Megami Tensei: Persona 4 and all its related games, Marta Lualdi in Tales of Symphonia: Dawn of the New World, Cheria Barnes in Tales of Graces ƒ, Lucina in Fire Emblem: Awakening and Super Smash Bros., and Jaina Proudmoore in World of Warcraft and Heroes of the Storm. She also voiced Fetch from Infamous: Second Son and Infamous: First Light.
Laura Bailey is married to fellow voice actor Travis Willingham.
External links
[
]