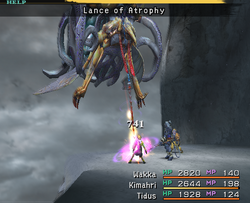 Lance of Atrophy (滅びのヤリ, Horobi no Yari?, lit. Spear of Destruction) is a recurring ability in the series, associated with Seymour Guado.
Appearances
[
]
Lance of Atrophy is an enemy ability used by Seymour Flux, which inflicts non-elemental physical damage to one party member with a power of 16 and inflicts Zombie at 100% chance. It has a 30% chance of shattering a petrified character.
Gallery
[
]
Etymology
[
]
Atrophy is the partial or complete wasting away of a part of the body.