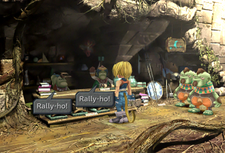 Lali-ho (ラリホー, Rarihō? or ラリホッ, Rariho—?), also known as Rally-ho, is the word of greeting used by dwarves in the Final Fantasy series. The word is often a password.
Appearances
[
]
Lali-ho is introduced in the original Final Fantasy game, though it was alternatively localised as "Hurray!!" in the NES script, or "Rally-ho!" in the Final Fantasy Origins script. It is said by the dwarves of Mount Duergar as a greeting.
This section about story element in Final Fantasy III is empty or needs to be expanded. You can help the Final Fantasy Wiki by expanding it.
The dwarves in the Dwarven Castle say "Lali-ho!", while the ones in Tomra say "Hi-ho!".
It is referenced in the name of a pornographic dwarven magazine from the 3D remake of Final Fantasy IV. The magazine, called Lustful Lali-Ho, is needed to obtain the Reach Augment. It is found in the Dwarven Castle. The protagonist, Cecil Harvey, is quite fond of it.[citation needed]
The dwarves in the Great Sea Trench say "Lali-ho!" as a greeting, and sometimes end their sentences with either "lali" or "ali".
The dwarves of Conde Petie say Rally-ho, and do not let those who refuse to utter it into their village. The moogles around, meanwhile, want to say "Rally-kupo".
In Final Fantasy XIV, Lali-ho is an expression of greeting shared by most of the dwarves of Kholusia in the First, introduced in the expansion Shadowbringers.
Lali-ho is available as an emote for players to use, obtained by completing the quest

Learning to Lali-ho, in which the Warrior of Light helps the struggling Ronitt of Tomra to be more sociable and properly greet other villagers. The
Lali Hop is a dance which can be purchased when one has Bloodsworn reputation with the dwarves.
The Dig Site Chief, from the village of Komra, uses amusing variations of Lali-ho depending on the situation, such as "Lali-that scared the shite out of me-ho!" or "Lali-I thought I'd never escape-ho!", throughout the YoRHa: Dark Apocalypse storyline.
Etymology
[
]
Lali-ho may derive from the phrase "tally-ho". [view · edit · purge]"Tally-ho" is a British phrase used in foxhunting and is shouted when a hunter spots a fox.
It may also be a reference to the call to action of Hanna Barbera's The Impossibles, Rally-ho. The phrase has been referenced in the sleep spell in Dragon Quest, only to be romanized as Lali-ho. From there, it entered other pop culture works, including Mannish Boy and his mind-controlling via dream Stand Death Thirteen's catchphrase in JoJo's Bizarre Adventure, as well as the lyrics to the sleeping song in Seto no Hanayome.