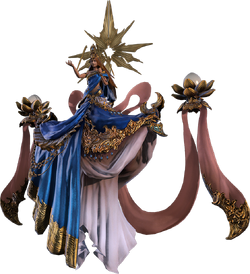 Lakshmi, also known as the Lady of Bliss, is the Primal of the Ananta beast tribe in the second expansion for Final Fantasy XIV.
Profile
The Lady of Bliss, beloved deity of the serpentine Ananta tribe. Legends tell of a beauty without equal, a benevolent goddess whose coming brings the promise of halcyon days and bountiful harvests. Some believe she has imparted her life-bestowing powers to her most fervent followers─the Ananta. Lakshmi, in her infinite mercy, would shelter them from harm, granting them succor with her alluring embrace.

Official site description
Story
Gameplay
Gallery
Artworks
Screenshots
Etymology
[view · edit · purge]Lakshmi (Sanskrit: लक्ष्मी, Laksmi) is the Hindu goddess of wealth, light, wisdom and fortune, luck, beauty, courage and fertility. She is roughly the Hindu equivalent of Ancient Greco-Roman goddess Aphrodite/Venus and is the representation of beauty and wealth.
Trivia
References

This section in Final Fantasy XIV is empty or needs to be expanded. You can help the Final Fantasy Wiki by expanding it.
Community content is available under
CC-BY-SA
unless otherwise noted.