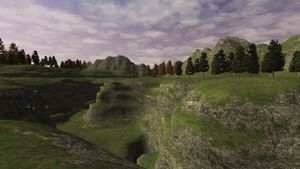 La Theine Plateau is a location in Final Fantasy XI.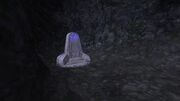 Position: (G-11)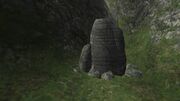 Position: (J-7)
Located at the end of a crevasse only accessible through Ordelle's Caves, this monument was placed by Gwynham Ironheart, the famous explorer. It reads:
This plateau is a land of many features, but by far the most memorable is the Crag of Holla.
I call it a structure, for I have no other word. It is surely not a rock born of nature, nor does it seem to be a hall built by the gods, as the priestly scholars say.
Yet there are no seams in its bone-white surface, and it is faintly warm to the touch. But through a fortunate accident, I have found proof of its artificial origins.
I shall head north to the land of Valdeaunia to verify my findings. I fear this may be the longest, most perilous journey of my life.
I leave my daughter Enid to find her own path. May the gods watch over her in my stead.

Gwynham Ironheart, 764 Crystal Era
This gallery is incomplete and requires Ordelle's Caves
(F-7), (H-7), (H-10), Hall of Transference
(K-8) and Abyssea - La Theine
(E-4) added. You can help the Final Fantasy Wiki by uploading images.

This section about a location in Final Fantasy XI is empty or needs to be expanded. You can help the Final Fantasy Wiki by expanding it.
Community content is available under
CC-BY-SA
unless otherwise noted.