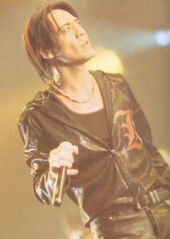 Kyosuke Himuro (氷室京介, Himuro Kyōsuke?) is a Japanese singer, born on October 7th, 1960, in Takasaki, Japan. He is best known for being the lead singer of Japanese rock group, Boøwy. He is known among the Final Fantasy community for performing the themes "Calling" and "Safe and Sound" (the latter with My Chemical Romance's Gerard Way) used during the endings credits of Final Fantasy VII: Advent Children and Final Fantasy VII: Advent Children Complete, respectively.
Himuro wrote "Calling" in 1989, as part of the album Neo Fascio. When it was chosen as the credits theme for Advent Children, he stated that he was honored to have his work appear in "the best CG movie ever made in Japan".
Trivia
[
]
In 1999, Himuro released a single named "Diamond Dust". Diamond Dust is a recurring Ice-elemental attack, appearing in many Final Fantasy games.
As an amateur musician in 1979, Himuro was part of a band named Death Penalty, which is coincidentally the name of a powerful recurring gun in the series.
External links
[
]