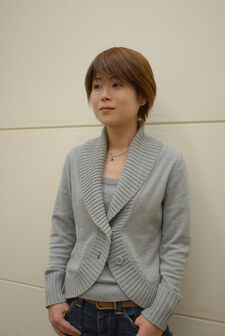 Kumi Tanioka (谷岡 久美, Tanioka Kumi?) is a Japanese video game music composer. Born in 1974 in Hiroshima, Japan, she joined Square in 1998 to become one of its prominent composers. She is best known for her works within the Final Fantasy Crystal Chronicles series. She plays the piano, and has performed some of her works on the piano.
Profile
[
]
A lover of classical music, she developed her talent as a pianist while listening to Nobuo Uematsu's compositions. After graduating from Kobe University, she joined Square to compose for the Final Fantasy spinoff Chocobo's Mysterious Dungeon 2 and Dice de Chocobo. She was then given the task of becoming one of the three composers for the Final Fantasy XI original soundtrack, with one of her contributions being the final battle theme "Awakening". She would continue to contribute one track, "Gustaberg", for the soundtrack of Final Fantasy XI's expansion, Final Fantasy XI: Chains of Promathia as member of The Star Onions.
Tanioka's major contribution to Final Fantasy music, however, is the music for the Crystal Chronicles series. Citing her love for world music, specifically Balinese, Indonesian, and Irish music, Tanioka developed compositions that would make a Crystal Chronicles a distinct, unique title from the rest of Final Fantasy.
Musical Works within the series
[
]
External links
[
]