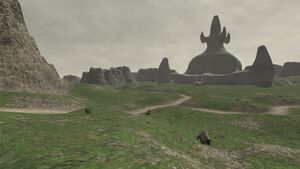 Konschtat Highlands is a location in Final Fantasy XI.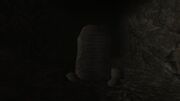 Position: (G-6)
In a cave located in a hill near the center of the Konschtat Highlands, a Stone Monument sits. It was erected during the Crystal era by the legendary explorer Gwynham Ironheart. It reads:
The wind that blows incessantly through this area is called "Odin's Wrath." Seeing its potential use, some ingenious Bastokers decided to build windmills here, a long time ago.
Flourmills, to be exact. In this desolate land where nothing more than potatoes can grow, the wheat brought in from San d'Oria was a true lifesaver to Bastokers.
San d'Oria, in turn, relied on their consumption of its surplus wheat, and also on the flour that came back from Bastok's mills. The mills became the symbols of their mutual dependence.
Even in times of war between the two, this trade continued. Both armies' brass were infuriated, but none tried to disrupt it lest the bread disappeared from their own tables! Ah, the irony!
A toast, to the merchants!

Gwynham Ironheart, 750 Crystal Era
This gallery is incomplete and requires Gusgen Mines
(L-7), Hall of Transference
(I-7) and Abyssea - Konschtat
(I-12) added. You can help the Final Fantasy Wiki by uploading images.

This section about a location in Final Fantasy XI is empty or needs to be expanded. You can help the Final Fantasy Wiki by expanding it.
Community content is available under
CC-BY-SA
unless otherwise noted.