Yuna needs Kimahri. Kimahri protect Yuna.

Kimahri Ronso
Kimahri Ronso [kɨ̞ˈmɑː.ɹi] is a playable character in Final Fantasy X and non-player character in Final Fantasy X-2. He is of the Ronso tribe, and is one of Yuna's guardians.
Kimahri, while taller than humans, is smaller than the average Ronso, and has a broken horn. He is a fierce protector of Yuna, and very loyal to her. He is mistrusting of others at first, and rarely speaks. He dislikes others trying to solve his problems for him.
His Lancet ability allows him to copy certain special moves from fiends, using them in his Overdrive, Ronso Rage. Kimahri wields spears and armlets in battle. His Celestial Weapon is the Spirit Lance, which deals more damage the closer Kimahri is to his max HP. Notably, Kimahri's position on the Sphere Grid allows him to progress any character's default path, allowing the player to choose his stats and abilities based on another character.
Profile
[
]
Appearance
[
]
Kimahri has blue fur and white hair and a beard. He is leonine, tall, and muscular, and has a tail. He has a broken horn on his forehead, causing him great shame as a Ronso. His ears are pierced, and his hair is held back in a ponytail and braided on the sides. Due to his fur, Kimahri doesn't need to wear clothes for warmth. He wears leather straps that hold in place his arm guards and his chest piece that has a skull motif. He wears ankle guards and a sash tied around his waist with a red belt. His shoulder guards have tufts of white feathers or fur.
Personality
[
]
Save some for Kimahri!

Kimahri when coming to Tidus's rescue when Seymour appears on Mt. Gagazet
Mostly out of shame over his broken horn, Kimahri rarely speaks to anyone. Whenever he does, he only talks to those he likes and trusts, which is a main part of why he does not initially talk to the male protagonist Tidus. The first time he speaks during Final Fantasy X is following Operation Mi'ihen, when he reminds Tidus—who is shocked to hear Kimahri talk at all—that he must keep a bright exterior and happy face to help brighten Yuna's journey. From then on, Kimahri only talks when necessary and usually offers helpful advice when he does speak.
Despite his frightening appearance, Kimahri can be gentle and kindhearted. He gets angry quite easily, but he always directs his anger towards those who threaten his companions. He's also fully dedicated to Yuna's safety, and is usually the first to be around when Yuna needs help. He doesn't hesitate to show his strength to others. This is further hinted by his resolve to reclaim his honor from his people.
Story
[
]
Gameplay
[
]
Final Fantasy X

[

]
Kimahri has no defined Sphere Grid path, and begins in the center with only Lancet. This allows him to branch into any character's Sphere Grid path and choose to branch into different roles, but means he will likely be lagging behind that character, and renders him unremarkable. He starts with high Strength, Defense, and Magic. Kimahri functions as both a Dragoon and a Blue Mage, albeit both in a fairly limited capacity due to their main abilities being Overdrives. Kimahri's Overdrive is Ronso Rage, which functions similar to Blue Magic in allowing him to cast enemy spells learned from enemies on which Lancet has been cast. One of the twelve Ronso Rages he can use is Jump, though it functions as an immediate attack rather than its traditional turn-delay. His Celestial Weapon is Spirit Lance.
Kimahri is the only party member depicted in his official artwork with a weapon that is neither his initial nor signature weapon. His initial Harpoon is a halberd model. In addition, while his original icon resembles the spear from his artwork, the HD icon from the HD Remaster version more closely resembles the Spirit Lance without the feather adornment, where all others resemble the initial weapon.
The first time Kimahri is encountered, he is fought briefly as a minor boss.
Final Fantasy X-2

[

]
Boss and party member
[
]
In the International and HD Remaster releases of Final Fantasy X-2, Kimahri can be fought in the Fiend Arena as a boss, paired up with Lulu. After winning the tournament, he can be recruited with Creature Creator.
To recruit Kimahri the player must set up a Special Monster Pod in Mt. Gagazet during a New Game Plus file. The abilities Kimahri can naturally learn are Jump, Nova, and White Wind. Like all monster allies, Kimahri can use any of the common dresspheres and he is controlled by the game's AI.
Quests
[
]
Kimahri Coin

Coin No.
63
Coin Value
9
Trait
Coin Count Echo
Location
Win from the Bevelle Core Sphere player in Luca Stadium.
A Kimahri Sphere Break coin can be won from the Bevelle Core Sphere player in the Luca Stadium. In Chapters 1 and 2, when the player talks to certain Ronso and a choice window pops up, choosing "correct" answers will affect the optional boss battle at Mt. Gagazet in Chapter 3. Choosing the correct answer when talking to Kimahri in Chapter 2 will also grant a scene in which he gives the Gullwings the Trainer dressphere.
Question
Response
Chapter One
Ronso youth grown horns of hatred for Guado.
You have to learn to deal with these things!
Must ask High Summoner Yuna: Find Lian and Ayde.
Leave it to the Gullwings!
Garik know Yuna save Spira, but Ronso not saved yet.
We'll take care of Lian and Ayde.
Many Ronso lost lives in battle to defend High Summoner Yuna.
I will never forget their sacrifice.
Guado leave Guadosalam. Guado plan dark schemes!
I'm sure you're right.
Ronso grief deeper than mountain snow.
I can imagine how you must feel...
Never forgive Seymour, never forgive Guado!
I wouldn't forgive them either.
Change will come to Ronso, too.
A change for the better, I hope.
Chapter Two
Worry is great burden on Elder's shoulders.
He does seem very tired.
Garik avenge murdered Ronso.
What if the Guado retaliate?
Guado is source of much chaos!
Maybe the Guado really are to blame.
Guado must die for Ronso future!
And what of the Guado?
Fight Guado!
Please, try to think about it some more.
Guado will escape us!
Then... there won't be anyone left to fight.
Sphere hunters are problem.
They should take better care of the mountain.
Musical themes
[
]
Kimahri's theme is considered to be "Servants of the Mountain", which is also the theme of the Ronso tribe and the permanent background music for Mt. Gagazet in Final Fantasy X. It plays during critical moments relating to Kimahri, most notably, his encounters with Biran and Yenke in Luca, the Moonflow, and their battle on Mt. Gagazet.
Other appearances
[
]
Kimahri has appeared in the following games throughout the Final Fantasy series:
Non-Final Fantasy guest appearances

[

]
Kimahri has made key guest appearances in the following games outside the Final Fantasy series:
Other media
[
]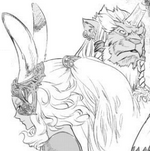 In Final Fantasy Lost Stranger, Kimahri and Fran are referenced when the protagonist assumes that there could be races similar to Viera or Ronso in different regions.
Kimahri served as the model inspiration for the hero Phantom Lancer [1] in the MOBA game Defense of the Ancients.

Behind the scenes
[
]
Kimahri refers to himself in the first person five times during the story: once while under Lake Macalania after the party are declared traitors, twice while speaking to Biran at Mt. Gagazet, another while speaking to Yuna before meeting Yunalesca, and once in an optional scene if he jumps onto Sin before Tidus during the attack on Sin at the end of the game.
Kimahri and the Ronso's designs and clothing may have been inspired by the rakshasa of Buddhist and Hindu mythologies. Hindu epics depict both good and evil rakshasas. They were powerful warriors, expert magicians, illusionists and shape-changers.
Voice
[
]
Kimahri is voiced by John DiMaggio in the English version. He shares his voice actor with Wakka in Final Fantasy X and Final Fantasy X-2 and Gilgamesh from Final Fantasy XII.
He is voiced by Katsumi Chō in the Japanese version.
Gallery
[
]
Etymology
[
]
[view · edit · purge]Kimari (決まり) means "settlement", "conclusion", "decide", "determine", "regulation", "rule", and "custom" in Japanese.