Cid Pollendina
:
Oh, shut up and help me remodel the Kilika Woods page!
Please expand this article into a full one. The following tasks need to be completed:
adding the story section.
This request can be discussed on the associated discussion page. Remove this notice upon completion.
Kilika Woods is a location in Final Fantasy X and Final Fantasy X-2. It is a woods near Kilika Port and is a pathway to Kilika Temple.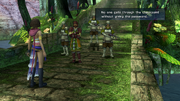 Search for the Squatter Monkeys
Edit
In the Residential Area, a woman in blue standing beside two young girls and a monkey will ask the player to find monkeys and bring them to her. There are thirteen Squatter Monkeys hiding in various spots in the Kilika Woods and can be located by a screeching noise, and pressing

. They will automatically be brought to the woman. Once all thirteen monkeys have been found she will give the player the Chaos Maelstrom Garment Grid. This quest can be started in Chapters 1, 3, and 5.
This article or section is a stub about a quest in Final Fantasy X-2. You can help the Final Fantasy Wiki by expanding it.
Chapter One
Edit
Awesome Sphere Heist!
Edit
Note: This is a compulsory mission which is required to complete the game.
Break through the checkpoints in the woods and at the Temple steps. Once you're in, acquire the sphere that New Yevon's been hiding in the Temple!
Objective: Capture the Awesome Sphere.
Unlock: Complete Where's Wakka and Claim the Treasure Sphere.
Reward: Awesome Sphere.
Final Fantasy XEdit
In Final Fantasy X, the theme "Calm Before The Storm" is played in Kilika Woods.
In Final Fantasy X-2, the theme that plays in the woods is "Mushroom Rock Road".
Other appearances
Edit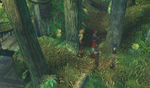 It's the day after Sin's attack on Port Kilika, and now Tidus and his party make for Kilika Temple.

Community content is available under
CC-BY-SA
unless otherwise noted.