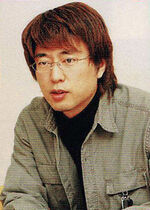 Kenichiro Fukui (福井 健一郎, Fukui Ken'ichirō?) is a Japanese video game music composer, arranger, and performer notable in the Final Fantasy community for his work as the keyboardist of the Black Mages, of which, along with Tsuyoshi Sekito, he is a founding member.
Fukui joined Square after in 1995 after having made his game music debut at Konami in 1991. Teaming up with Sekito, after recording the experimental All Star Pro-Wrestling soundtrack in a rock style, he worked on the hard-rock arrangement of ten battle themes of the Final Fantasy series. Nobuo Uematsu, impressed by their prowess and being a long-time rock fan, decided to form the Black Mages, serving initially as the band's producer in order to show the public the arrangements.
Fukui, a very prolific musician, has worked on several projects within and without Square Co., Ltd. and Square Enix. He was the lead composer and synthesizer operator of 2006's externally developed shooter Project Sylpheed, working along with Junya Nakano, as well as others. Around the same time, he contributed the arrangement of "This is the Final Battle" performed by the Black Mages for the bonus tracks in the Final Fantasy III Original Soundtrack.
Fukui was also responsible for arranging the English version of Angela Aki's "Kiss Me Good-Bye" for Final Fantasy XII. He also worked on Final Fantasy XII: Revenant Wings, adequating via arrangements some of the tracks by Hitoshi Sakimoto on the game's prequel. Working with Nakano once again, he conventionally arranged approximately a third of the musical themes included in the DS version of Final Fantasy IV; notably, he arranged the game's "Theme of Love" into Megumi Ida's song "Tsukino Akari".
In October of 2007 he left Square Enix to become a lecturer, although he still works with the Black Mages.
See also
[
]
External links
[
]