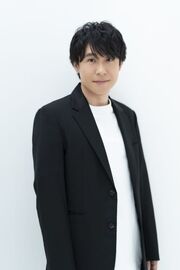 Kenichi Suzumura (鈴村 健一, Suzumura Ken'ichi, born September 12, 1974) is a Japanese voice actor and singer who is the founder and representative of the INTENTION, a voice acting company he founded in March 2012. He was raised in Osaka Prefecture.
He voices Zack Fair in Final Fantasy VII Remake, Final Fantasy VII: Advent Children and Crisis Core -Final Fantasy VII-, as well as Jack from Final Fantasy Type-0.
Roles
[
]
Related games
[
]
Background
[
]
He is best known for providing voices for Rogue Cheney in Fairy Tail series. and Shinn Asuka in Gundam Seed Destiny series.
Kenichi Suzumura is married to Aerith Gainsborough and Lightning's voice actress Maaya Sakamoto.
References
[
]
External links
[
]