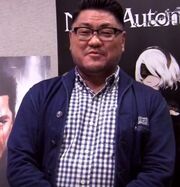 Keiichi Okabe (岡部 啓一, Okabe Keiichi?), born May 26, 1969, is a Japanese video game music composer. Outside of the Final Fantasy series, he is best known for composing the soundtracks to the NieR series.
Biography
[
]
Okabe was born in Kobe, Japan. He began his career in 1995, working for Namco and arranging tracks for the Tekken series. He established his own music production studio, MONACA, in 2004, which mostly contributes music to anime series such as Working!! and Yuki Yuna is a Hero. In 2010, he worked on the music of NieR, a game published by Square Enix.
To promote the release of NieR: Automata, two of Okabe's tracks, "Song of the Ancients/Fate" and "Weight of the World", were added to the in-game music player in Final Fantasy XV. Later, he was asked to compose the main theme of the Episode Gladiolus DLC, as well as an arrangement of the iconic "Battle at the Big Bridge".
Okabe also made an arrangement of "Aerith's Theme" for Super Smash Bros. Ultimate, to go with Sephiroth, who was released as downloadable content on December 17, 2020.
Works in the series
[
]
External links
[
]