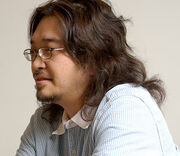 Kazushige Nojima (野島 一成, Nojima Kazushige?) (born January 20, 1964, in Sapporo, Hokkaido) was the main scenario writer for several Final Fantasy games. He is also the lyricist for several Final Fantasy songs. Kazushige Nojima left Square Enix in October 2003 and started his own freelance company, Stellavista Ltd. Despite leaving Square Enix, he still regularly works with the company as a freelancer.
Works in the series
Nojima is also the author of Final Fantasy VII related stories that have been published in a book form: On the Way to a Smile and Final Fantasy VII The Kids Are Alright: A Turks Side Story, as well as the Final Fantasy X-2 "sequel" novel, Final Fantasy X-2.5 ~Eien no Daishō~.
Interviews
2003 Interview: Final Fantasy VII and Final Fantasy X-2 are connected
Published on the Final Fantasy X-2 Ultimania this interview contains details about Shinra from Final Fantasy X-2 and Shinra from Final Fantasy VII.
In an interview with a French Final Fantasy website Finaland in 2018 Nojima commented on the link thusly: "This story is a bit of a joke. When we created FFX-2, we wanted to create something, a totally new world. Except that when I created it, I realized that it looked a lot like FFVII... But without realizing it. Afterwards, when it was officially said in Ultimania, it took a completely gigantic proportion when it was just an anecdote."[3]
Trivia
Nojima aided in writing the story for Super Smash Bros. Brawl's Subspace Emissary mode.
External links
References
Community content is available under
CC-BY-SA
unless otherwise noted.