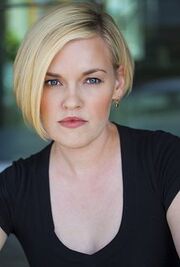 Kari Wahlgren (born July 13, 1977) is an American actress and voice actor. She is the voice for Ashelia B'nargin Dalmasca in Final Fantasy XII, Aranea Highwind in Final Fantasy XV, Shelke Rui in Dirge of Cerberus -Final Fantasy VII-, and Ovelia Atkascha in Final Fantasy Tactics.
Roles
[
]
Related games
[
]
Background
[
]
I absolutely LOVED playing Ashe. She's one of those characters that I would be proud to have my niece look up to...or any girl for that matter. So often, female characters are portrayed as silly or stupid or weak.

Kari Wahlgren on playing Ashe.
Kari auditioned for roles as Ashe and Shelke at the same time and was booked for both of them within a day of each other. For her role as Ashe, she took a theater class on Shakespeare in order to sound more regal to fit the role of a princess. She has also stated that playing Shelke was challenging as she had to convey a completely emotionless character.[1]
Outside of the series, Kari has provided voice for over a hundred different cartoons, anime, and video games. Her most famous roles include Haruko Haruhara in FLCL, Raine Sage in Tales of Symphonia, Emma Frost in various X-Men and Marvel series and Jessica in the Rick and Morty series.
External links
[
]
References
[
]