The solitary, gentle-souled dragon knight whose heart lies with the dragons.

Description
Kain Highwind is a playable character in Final Fantasy IV and Final Fantasy IV: The After Years. He is a Dragoon from the kingdom of Baron, Cecil Harvey's childhood friend and adoptive older brother. He has feelings for Cecil's beloved Rosa Joanna Farrell, but he hides them so they do not hinder his relationship with either of the two: Rosa in turn has feelings for Cecil.
Appearance
Edit
Kain wears full body armor colored dark purple or blue in most of his appearances. He wears a helmet the shape of a dragon's head that obscures most of his face and sharp spikes extend out of his armor on his shoulders, elbows and calves, to give it an even more draconian look. He has long blond hair, tied back in a ponytail in most appearances. His original Yoshitaka Amano artwork and Dissidia 012 Final Fantasy appearances seem to depict him with purple hair, but in Dissidia 012, it was revealed to be an attachment to his helmet, covering up his real hair.
Final Fantasy IVEdit
As a party member, Kain's special ability is Jump allowing him to deal extra damage and avoid damage for a brief time, and he primarily wields spears (with ability to wield other weapons, but not take advantage from additional Jump damage) and wears heavy armor, shields, armlets, helmets and gauntlets in battle. His stats are more geared towards physical damage and defense, with limited magic growth (and in the 2D release, he has no MP growth). Kain's ultimate weapon in releases featuring the Lunar Trials is the Abel's Lance though in the 3D release it is the Holy Lance, and the 2D version of the weapon is the most powerful weapon in 2D releases lacking the Lunar Trials.
Kain is also fought as a boss, and appears as the Dragoon in the scripted battle with Cecil in Final Fantasy IV at Fabul's crystal chamber.
Final Fantasy IV: The After YearsEdit
Kain has two different playable forms, firstly as Hooded Man and as Holy Dragoon Kain. They have different stat growth, particularly in HP and MP (which can be made up for in items to increase growth), and the Holy Dragoon Kain is the final form.
As the Hooded Man, Kain has overall decent stats in the physical department, but lacks any special abilities. He retains Jump only when battling Dark Kain.
As Holy Dragoon Kain, he retains the Jump command and gains a few White Magic abilities (but does not learn any new ones). He has access to several Band abilities with other characters. His weaponry is similar to previous games, giving him access to many spears, with gained access to Paladin-exclusive weaponry.
Kain is faced as a boss in some cinematic battles in flashbacks at the end of the Lunarian's Tale. In each of these battles the player's actions mean nothing, after a few turns the battles end in dialogue sequences and the enemy party nor the player can be KO'd in that time.
Musical themes
Edit
Kain's theme is called "Disbelief", alternatively called "Suspicion" or "Kain's Betrayal." It plays whenever Kain betrays the party and is reprised in -Interlude-and The After Years when a party member acts suspiciously or betrays the others.
An arrangement of the theme, "Suspicion -Arrange-", also appears in Dissidia 012 Final Fantasy as Kain's world map theme.
Another track, "Cry In Sorrow", plays during Kain's Lunar Trial and whenever he rejoins the party.
Other appearances
Edit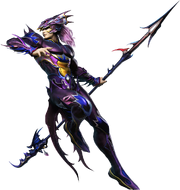 Kain has appeared in the following games in the Final Fantasy series:
Non-Final Fantasy guest appearancesEdit
Kain has made key guest appearances in the following non-Final Fantasy games:
Other media
Edit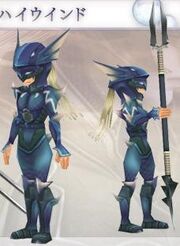 Users in Square Enix Members Virtual World community can make their character appear as Kain Highwind.
In Heavenstrike Rivals, a Square Enix strategy game for mobile, Kain was released as a unit in a Final Fantasy IV event from 13 to 20 January, 2016.[2]

Etymology
Edit
[view · edit · purge]Cain was the brother of Abel in the Tanakh/Old Testament book of Genesis. Cain became the first murderer by killing his brother out of jealousy stemming from God choosing Abel's gift over that of Cain. This reflects the love triangle between Kain, Cecil and Rosa, Kain being jealous of Cecil being the target of Rosa's affections and not him. Kain's ultimate weapon in the Advance port, Abel's Lance, takes its name from the same source. In some versions, including the original Japanese releases and the Spanish release of the Advance port, Kain's named is spelled with a "C", the same as the Biblical spelling.
[view · edit · purge]"High wind" is typical of wind speeds that place a seven on the Beaufort scale. When wind travels this fast (approximately 32 to 38 miles per hour), the sea heaps up. Streaks of foam from breaking waves are blown in the direction the wind is traveling, and there are moderate amounts of airborne spray. On land, high wind moves entire trees, and effort is required to walk against it.
In the English localization of the 3D versions as well as in Dissidia 012 Final Fantasy, Kain is pronounced [keɪn], just as Biblical English "Cain". However, in the Japanese version his name is spelled カイン (Kain) in kana, which is closer to the name's pronunciation in Continental Europe and to the Hebrew form קַיִן Qáyin. However, the Japanese manual lists his name written in Roman alphabet as "Cain" which would suggest the English pronunciation.
As well as the aforementioned etymology, the name Kain is similar to the Hebrew word kidon (כידון), meaning "javelin", which is also significant to his character.
The Highwind surname is a traditional name for Dragoons in the series, beginning with Ricard Highwind in Final Fantasy II.
Kain is called Kain Ventalto in the Spanish DS version, and Caín Céfiro in the Spanish GBA version.
Kain's Lance, a recurring spear in later installments of the series, alludes to both Kain Highwind from Final Fantasy IV as well as the Biblical Cain.
Kain's father Richard hearkens to Ricard from Final Fantasy II; in the 3D remake Kain states his father died fighting an evil empire. In Final Fantasy II, Ricard adopts a young boy after his father was killed by Palamecia's attack. Beginning with the Dawn of Souls remake, this boy is named Kain. It is unlikely this is more than a passing reference, as in The After Years, Kain mentions he was Ceodore's age when his father was killed, with Ceodore being older than the Kain seen in Final Fantasy II.
Officially, Kain is considered left-handed, yet numerous illustrations depict him right-handed; Yoshitaka Amano's artwork features Kain holding his lance right-handed, and his in-game 3D model also depicts him this way. His artwork for The After Years in both his Hooded Man and Holy Dragoon forms depict him left-handed.
In Final Fantasy V, Bartz's Dragoon sprite is based on Kain's, featuring a different shade of blue and a slightly different helmet, and a mouth-covering mask.
The first Super Nintendo entry in Square's Hanjuku Hero series features parodies of Final Fantasy IV characters, where some of the playable generals are named after them, including Kain.
Along with other characters, Kain is featured on the loading screens for Final Fantasy Chronicles, where he enacts his iconic pose before the Final Fantasy logo appears.
Kain has four different menu portraits across all releases of Final Fantasy IV and six more from all releases of The After Years, tying him with Rydia and Cecil for the most in the series.
During the first playthrough in the 3D remake version, the player will see the back of Kain's head without his helmet at the ending. In the following New Game Pluses more and more of his head is revealed.
Kain shares his English voice actor with Red XIII from the Compilation of Final Fantasy VII, Caius Ballad from Final Fantasy XIII-2, and Cu Chaspel from Final Fantasy Crystal Chronicles: Ring of Fates.
The Artifact Armor for Dragoon in Final Fantasy XIV refers to Kain Highwind's armor, bearing similar spikes and overall silhouette, as well as the eye-obscuring helmet design. Dragoon's presentation artwork also resembles Kain's pose on the the Final Fantasy IV logo (as does the optional idle-pose for the Dragoon job accessed with the "/cpose" chat command), and the Gae Bolg relic weapon has a hydraulic cord reminiscent of the strap on the spear Kain is typically depicted with.
References
Edit
Community content is available under
CC-BY-SA
unless otherwise noted.