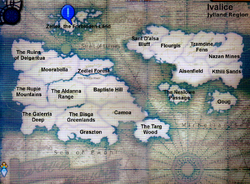 Jylland (ユトランド, Yutorando?, lit. Jutland) is a region of Ivalice where the story of Final Fantasy Tactics A2: Grimoire of the Rift takes place.
Profile
[
]
Geography
[
]
Jylland is made up of two peninsulas and several islands, and is divided into five territories that span two continents, the Loar Continent to the west and the western half of the Ordalia Continent to the east. Within these territories are several locations such as battlefields and towns. The River Silenia flows east through Loar.
Calendar
[
]
A year in the Jylland calendar has 12 months, with each month made up of 20 days, so that one full year is the same as 240 days. With the region having four seasons; spring, summer, autumn and winter, each season spans three months.
The calendar is shown in this table:
Season
Months
Spring
Greenfire
Bloodfire
Rosefire
Summer
Coppersun
Goldsun
Silversun
Autumn
Ashleaf
Mistleaf
Emberleaf
Winter
Plumfrost
Blackfrost
Skyfrost
In the Spanish language version, the months name are different (consisting of a color name related to the English month names, plus a month contraction):
Season
Months
Primavera
Verdarzo
Rojibril
Rosayo
Verano
Amarunio
Dorulio
Platosto
Otoño
Ceniciembre
Azubre
Granabre
Invierno
Violembre
Negrinero
Celebrero
The months influence the type of new clan members that can be recruited into the clan. It also influences which monsters will show up where.
Demography
[
]
The demography of Jylland is characterized by few cities holding most of its population, rendering each of said cities rich in commerce and important points in which clans can use to gather information about quests and dispute the control over a territory in Auction Houses.
Jylland's population is mainly found on the city of Moorabella, to the north of Loar; Camoa, on the southeast; Graszton, on the south; Fluorgis, Ordallia's most western city; and Goug, to the south of western Ordallia and a settlement for most moogles of the continent.
It is of importance to note that many clans wander the land, and being of nomad nature, they do not have official settlements, instead going from town to town.
Locations
[
]
Loar Continent
[
]
Ordalia Continent
[
]
Jagd Zellea
[
]
Zellea, the Forbidden Land - The Mist runs thick in these forbidden reaches. A treasure of immense power is said to lie here.

Dance of the Candleflies
Footfalls of Despair
To Touch the Heavens
Etymology
[
]
Jylland is the Danish name for Jutland, the peninsula that makes up little over half of Denmark. In the Japanese version, the region is called "Yutorando" (ユトランド, Jutland?).