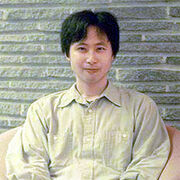 Junya Nakano (仲野 順也, Nakano Jun'ya?) is a Japanese video game composer and musician who has been involved in several projects involving the music of the Final Fantasy series.
Nakano was introduced to music at the age of 3, when his parents enrolled him on music courses and bought him an organ, which is what encouraged him to follow a career in music. At age 8, he then found that he had a liking for video games, as well as the usage of computers. He began working at Konami in 1991, where he met Kenichiro Fukui, and worked as a composer for eight arcade games. Along with Fukui, he left Konami and joined Square in 1995.
Nakano has been involved in many projects in Square Enix, most notably the composing of Final Fantasy X's original soundtrack (sharing credits with Nobuo Uematsu and Masashi Hamauzu) and Piano Collections album and the arrangement of the DS version of Final Fantasy IV's original soundtrack along with Kenichiro Fukui. He also contributes two tracks to the soundtrack of Final Fantasy XIII, namely "Tension in the Air" and "Desperate Struggle".
Musical Works within the series
[
]
External links
[
]