The many faces you've shown me. Times when you were hurt, worried... Or felt pain deep inside you. Your smile, your face, your eyes... You've shown me something... I think I can come up with a song.

Julia Heartilly
Julia Heartilly is a non-player character in Final Fantasy VIII. A famous Galbadian pianist turned singer, she is Laguna Loire's love interest and Rinoa Heartilly's mother. Julia sings the game's theme song, "Eyes On Me", which is a song dedicated to Laguna.
Profile
[
]
Appearance
[
]

Julia is a tall, pale young woman with shoulder-length dark hair tucked behind her ears. She wears a long red spaghetti strap/halterneck satin dress with a split up the left side, a gold cuff on her left wrist, and black high-heels with criss-crossing straps.
Personality
[
]
Julia is kind, shy, reserved and benign. Despite wanting to get to know Laguna, she waited for him to express interest first before approaching him, and later does not interrupt him despite Laguna getting carried away and talking away for hours. She has a passion for music and singing, but is unsure of her abilities and is seeking for inspiration to give her the courage to break out of her role as a lounge pianist.

Story
[
]
Julia Heartilly's song. Julia married the Galbadian General Caraway after releasing "Eyes On Me". Gave birth to a girl one year later. Julia died in a car crash at age 28, right before her daughter turned 5.

FFVIII Info Corner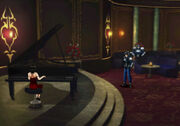 Although brief and likely never consummated, Laguna and Julia's relationship plays a major role in the theme of destiny, a central theme for Final Fantasy VIII. Although circumstances kept Julia and Laguna apart their love was reconciled through the romantic involvement of their children, Rinoa (Julia's daughter) and Squall (Laguna's son).
Little is known of Julia's early life, other than her passion for music. By the time she reached young adulthood, Julia performed regularly as a pianist in the downstairs lounge of the Galbadia Hotel in Deling City. Popular for her beauty almost as much as for her music, Julia enjoyed performing but longed to break out of her role as a mute bar room pianist; despite her talent for the piano, Julia's true dream was to sing.
When Julia was 22 years old, she met Galbadian soldier Laguna Loire. Laguna and his friends, Kiros and Ward, would frequent the hotel's bar room when off-duty, and Laguna was captivated by her. He returned to the bar night after night to watch her perform from the shadows, too embarrassed to speak to her. Although Laguna doubted anyone as beautiful and talented as Julia would take notice of someone like him, Julia harbored a crush on her "secret" admirer.
One evening, Laguna worked up enough nerve to speak to Julia, and Julia invited him up to her room. The pair opened up to one another; Laguna confided in Julia his dream of quitting the military and becoming a journalist, and Julia told Laguna her wish to write and perform her own songs. She wanted to sing, but never knew what to write a song about. In meeting Laguna, Julia said she had found her inspiration.
Their time together ended when Kiros informed Laguna they had been called away on an important mission. Julia was saddened Laguna had to leave just when they had gotten to know each other, but he promised he would return after his mission was complete. Julia waited for Laguna to return, but never heard from him again.
Julia was comforted by Fury Caraway who encouraged her to pursue her dream of becoming a songwriter. Julia wrote, "Eyes On Me", a romantic ballad about Laguna, and it became a hit all over Galbadia.
Julia and Caraway married, and built a life together in Deling City. They had a daughter, Rinoa, and Caraway advanced his position within the military to become the head general, while Julia continued to write and perform songs. Their happiness was shattered a some years later when Julia was killed in an automobile accident, when she was 28 years old, and Rinoa was 5. This tragedy became the start of the estrangement between her daughter and her husband.
Musical themes
[
]
Julia plays a rendition of "Eyes on Me" on the piano at Galbadia Hotel. The track is named "Julia" and is included as the 20th track in Disc 1 of the original soundtrack. This piano version of "Eyes on Me" can be heard again at the hotel in Shumi Village.
The track is rearranged by Takeharu Ishimoto as a song in Dissidia 012 Final Fantasy, and is also included in the soundtrack. It is used as Laguna's world map theme.

Etymology
[
]
Julia is a Latinate feminine form of the name Julius. [view · edit · purge]Julius is a male given name from an ancient Roman family name possibly derived from Greek ιουλος (ioulos) "downy-bearded." Alternatively, it could be related to the name of the Roman god Jupiter. This was a prominent patrician family of Rome, who claimed descent from the mythological Julus, son of Aeneas. Its most notable member was Gaius Julius Caesar. Although the name was borne by several early saints, including a pope, it was rare during the Middle Ages. It was revived in Italy and France during the Renaissance, and was subsequently imported to England.
The name may have been chosen due to sounding similar to a character from William Shakespeare's famous play, Romeo and Juliet, whose title characters are regarded as archetypal young lovers today. The play is mentioned once in the game in reference to Laguna, albeit this is easily missed; during Squall's time he can speak to a woman in the Timber train station who mentions she once almost fell on the tracks in front of an incoming train, but a Galbadian soldier (Laguna) saved her, and refers to the situation like something from Romeo and Juliet.