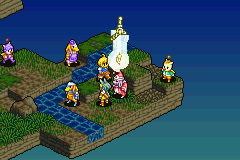 Calls forth judge sword to steal judgement points.

Description
Judge (ジャッジ, Jajji?) is a Prayer spell, exclusive to the bangaa Bishop class of Final Fantasy Tactics Advance. It costs 6 MP to cast and is learned for 300 AP from the Cheer Staff, and steals up to two Judge Points from a target. The sword summoned during the attack resembles those used by actual Judges. It has a range of 3 and can be countered with Return Magic. It cannot be reflected and is stealable through the ability Steal: Ability.
Community content is available under
CC-BY-SA
unless otherwise noted.