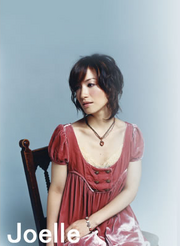 Joelle Strother, known as Joelle in all her works, is an American-born Japanese singer, best known to the Final Fantasy community for her work in Final Fantasy XIII-2's soundtrack. She provided the vocals for the album's several tracks such as "Plains of Eternity," "Village and Void," and "Yeul's Theme."
She also contributed vocals for the music of Bravely Default, composed by her Sound Horizon bandmate Revo.
Joelle was born on September 26th, 1980, in Salt Lake City, Utah.
External links
Edit