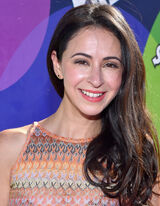 Jessica DiCicco (born June 10, 1980) is an American actress and voice actress.
She's also known for voicing Flame Princess in Adventure Time, Tambry and Giffany in Gravity Falls, Lexi Bunny in Loonatics Unleashed, Lynn and Lucy in The Loud House, Maggie Peskty in The Buzz on Maggie, Leanne in Resonance of Fate and Malina in Emperor's New School.
Lua error in package.lua at line 80: module 'Dev:NavboxBuilder' not found.
Community content is available under
CC-BY-SA
unless otherwise noted.