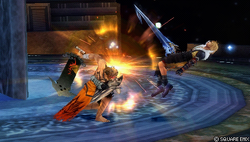 Jecht Rush (ジェクトラッシュ, Jekuto Rasshu?) is a recurring ability originally from Dissidia Final Fantasy. As its name suggests, the ability is associated with Jecht, and consists of a rushing attack at an enemy.
Appearances
Edit
Jecht Rush is a ground Bravery attack unlocked immediately. It attacks an enemy and bombards them with punches, kicks, and sword attacks. Notably, the ability can also be used in combination with HP attacks Jecht Blade (ground and midair), Triumphant Grasp, Jecht Beam and Ultimate Jecht Shot. It costs 45 CP to equip (25 when mastered), 90 AP to master, has priorities of Melee Low and Melee Mid, has Chase and Wall Rush effects and deals physical attacks.
Jecht Rush returns in the sequel. It is mostly identical to its appearance in the prequel, with some exceptions. It can be used in combination with midair Jecht Beam, and now costs 60 CP to equip (30 when mastered) and 130 AP to master.
Jecht Rush is a Soul Break available for Jecht, and can be used once Jecht has the Jecht Bandana equipped.
Community content is available under
CC-BY-SA
unless otherwise noted.