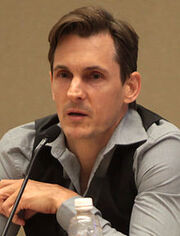 Jason Spisak (born August 29th, 1973) is an American voice actor. He is the voice of Bartz Klauser in Dissidia Final Fantasy and Dissidia 012 Final Fantasy, and Izana Kunagiri in Final Fantasy Type-0 HD.
Outside of the series, Spisak is known for his roles as Wilhelm in Xenosaga Episode II and III, Jason Dante in Uncharted: Golden Abyss, Vulpes Inculta in Fallout: New Vegas, and Avan Hardins in Valkyria Chronicles II.
Community content is available under
CC-BY-SA
unless otherwise noted.