Istory, also known as Easterly, is a town in Final Fantasy V located on the northwest part of the world map. It is a place native to Bartz's World.
In the Merged World, Exdeath uses the Void on Istory.
Quests
[
]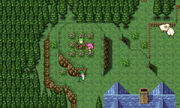 In the northwest part of town, there is a garden with eight flowers. If the player walks on them and stops at the southeastern flower, a toad will pop out of the ground and drop the spell Toad.
There is a sheep in the northeast part of town. If the player stands behind it and interacts with it, the sheep will kick the player, sending him flying next to a bard. If the player talks to him they will learn Romeo's Ballad.
The summon Ramuh can be obtained from a forest outside Istory, where he appears as a random encounter in Bartz's World.
Shops
[
]
Item Shop

[

]

Magic Shop

[

]

Armor Shop

[

]
Items
[
]
Enemies
[
]
Outside (Bartz's World)
Outside (Merged World)
Musical themes
[
]
Like in many different towns, "Harvest" (ハーヴェスト, Hāvesuto?) plays in Istory.

Other appearances
[
]
One of the original servers was named Istory. It was merged with the Mysidia server into the Gungnir server.
Gallery
[
]