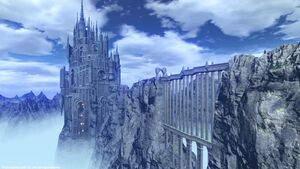 In the central region of Abalathia's Spine, that great mountain range that spans Aldenard from east to west, can be found the forbidding highlands of Coerthas and the Holy See of Ishgard. The archbishop of the church, while leading his people in the teachings of Halone, the Fury, rules also as the nation's sovereign. Ishgard's formidable army of knights wages constant battle against its mortal enemies, the dragons. Faced with ever more aggressive attacks from its serpentine foes, as well as an unprecedented spell of bitter cold, the theocracy's days are dark indeed. Matters have grown so grave as to prompt the archbishop and his advisors to consider throwing open the heretofore sealed gates of Ishgard and calling for outside aid. The city-state's only known access point is a bridge called the Steps of Faith, blocked off by the Gate of Judgement.
Ishgard is constantly at war with sentient Dragons, and much of their military is made up of Dragoons. Among other reasons, this is why they are reluctant to join the Eorzean Alliance against the Garlean Empire, as they lack the unoccupied manpower. They are also the leading provider of Eorzea's Chocobos, and refused to deliver any to the other city-states due to the chocobo blight that lasted from the game's launch until patch 1.19.

Political Structure
According to several NPCs, Ishgard is a strict theocracy led by a fearsome archbishop. A woman in the Falcon's Nest, a hamlet south of Camp Riversmeet, says that the archbishop calls the hamlet's men away, many of which are slain by dragons and never return. The reason for the archbishop's summons is unknown, although it is likely conscription.
They also have four noble "High Houses", and their nation's flag depicts the symbol of each house: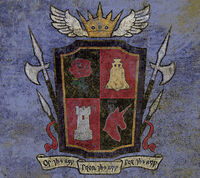 Rose: ???
Bell: ???
Unicorn: House of Fortemps
Tower/Rook: House of Dzemael
Trivia
Ishgard's flag was one of very few allusions to horses in the original game, in this case a Unicorn.
The flag also has Eorzean text on it, reading "Of the Sky, From the Sky, For the Sky".

This section about a location in Final Fantasy XIV is empty or needs to be expanded. You can help the Final Fantasy Wiki by expanding it.
Template:FFXIV