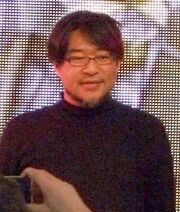 Isamu Kamikokuryo (上国料勇, Kamikokuryō Isamu?) worked as an art director for Square Enix. Kamikokuryo is best known for his work with Final Fantasy XII (2006), Final Fantasy XIII (2009), and Final Fantasy XV (2016). He left the company on March 31, 2017 after 18 years in their employment.[1]
Style
[
]
Due to his work on Final Fantasy XII, he was part of the Ivalice Alliance franchise and thanks to Final Fatasy XIII was also involved in the Fabula Nova Crystallis franchise. Kamikokuryo has been influenced by the works of various photographers, and has taken trips to New York City to observe architecture, visited the Grand Canyon for its scenery, and ventured to Italy to view ancient ruins. Kamikokuryo says there is no "Final Fantasy look," as each installment is a different world.[2] Kamikokuryo believes past Final Fantasy games had limitations in expression due to the hardware, so the development staff had to let the player use their imagination for the character costumes.[2]
Kamikokuryo has stated he believes they need to pursue something "not too realistic"; they want to keep the uniqueness of the character designs by Tetsuya Nomura, but also want to draw upon real-life inspirations. Stylization is important to Kamikokuryo, through which he wants to emphasize coolness and cuteness, and he has stated the development team is constantly struggling between realism and a more stylized look.[3] Kamikokuryo has helped shape most of the recent Final Fantasy games, and his presence in future titles will be missed, but we wish him all the best in his freelance endeavors.
Kamikokuryo notes the CGI and in-game development teams are separate, but also work together. He believes photo-realism is fundamentally an attractive proposition and will be valuable in Final Fantasy.[2]
Work on Final Fantasy

[

]
Kamikokuryo has stated he thought the development of Final Fantasy XII took a long time, but because of the development length he could paint the art for the game in fine detail, and it is because he took so long to make the art for the game the final game achieved its look.[4]
Kamikokuryo spent nearly a year of pre-production solely on art for Final Fantasy XIII. He says he took the game's futurist framework, but incorporated elements of fantasy into it. The idea for Lightning to have a sword that can transform into a gun relates to the game's Eidolons; one of the gameplay themes chosen for Final Fantasy XIII was transformation, and the Eidolons can turn into vehicles; if summons could transform, they thought weapons should be able to as well.[5]
Works within the series
[
]
Gallery
[
]
Trivia
[
]
"The City of Lights" is the first oil painting done by Isamu Kamikokuryo since 1997.
References
[
]