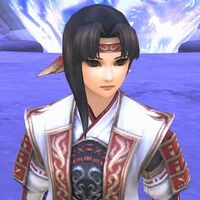 Iroha (いろは, Iroha?) is the main character of Final Fantasy XI: Rhapsodies of Vana'diel, the final expansion of Final Fantasy XI.
Appearance
Edit
Irha is a Hume female with long brown hair tied in a low ponytail and brown eyes. She wears a white top and robe with red trim as well as black pants. She wears red and gold armor plating on he legs, arms and shoulders. She has a red and gold headband.
Personality
Edit
Other appearances
Edit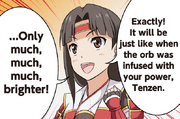 Iroha appears in the series of four-panel manga illustrated by Tomokichi.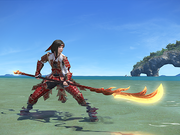 Iroha appeared during the "A Maiden's Rhapsody" event in 2015, and again when the event was repeated in 2017. Having mysteriously awoken in Eorzea near Costa del Sol after the events of Rhapsodies of Vana'diel, with only vague memories of her past, she is found by a reporter from Limsa Lominsa and the Warrior of Light, the latter of whom agrees to help train Iroha to master the technique Amatsu: Kyori, in hopes that it might jog her memory. While journeying around the world with the Warrior of Light to complete certain FATEs, she regains her memories and masters Amatsu: Kyori.
Once completed, she recounts her past and the events of Final Fantasy XI, and tells the Warrior of Light that they remind her of her Master. Convinced that her adventures on Eorzea are but a dream, she closes her eyes, resolved to awaken once more in Vana'diel. When she opens her eyes again to find herself still in Limsa Lominsa, much to her confusion, she believes that perhaps it is the will of the Goddess Altana that she remain in Eorzea, and she resolves to continue her training until one day she can return home.
Etymology
Edit
[view · edit · purge]The Iroha (いろは?) is a Japanese poem, probably written in the Heian era (AD 794–1179). Along with being a treasured example of prose and beauty of transience in Japanese culture, it is also important to Japanese literature and language as an isogram to introduce all syllables to beginning learners.
In her parting, as her storyline is the final entry in Final Fantasy XI, Iroha breaks the fourth wall by thanking the player for saving Vana'diel for fourteen years.