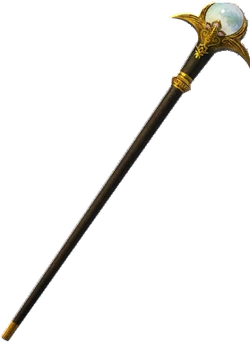 A staff brought from the distant world of Vana'diel. The staff is able to greatly increase the user's magic power, so it should prove to be very effective in the hands of a skilled black mage.
Iridal Staff (イリダルスタッフ, Iridaru Sutaffu?) is a recurring weapon in the series, predominantly seen wielded by Shantotto.
Appearances
[
]
Iridal Staff is a staff that provides 40 damage, 366 delay, STR +4, DEX +4, VIT +4, AGI +4, INT +4, MND +4, CHR +4, all elemental resistances +15, Cure potency +10%, MP recovered while healing +10 and Iridescence which increases the effects that weather bonuses give by +10%; there is a penalty to magic aligned with the opposite weather of -10%. It has an hidden effect that increases all elemental magic damage dealt by 10% (Meteor is not affected), Magic Accuracy +10, -2 Avatar perpetuation cost, and Charm +5. It deals 6.56 damage per second and accumulates 94 TP per hit. It can only be obtained through synthesis. It can be equipped by all jobs at level 51.
The Iridal Staff is Shantotto's default weapon. Having it equipped carries no advantages or disadvantages.
The Iridal Staff is Shantotto's Limited Weapon (LD Weapon). Equipping this weapon or its respective passive allows the use of her limited ability Salvation Scythe in battle.
Iridal Staff is a rod that provides 19 ATK, 82 MAG, and Auto-Regen. It is obtained during the Final Fantasy XI event, "The Shadow Lord Invades". It can only be equipped by Shantotto and Livid Shantotto.
Gallery
[
]
Etymology
[
]
"Iridal" means either pertaining to a rainbow or pertaining to the iris of the eye.