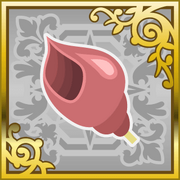 Instruments (楽器, Gakki?) are a recurring weapon type in the Final Fantasy series. These incorporate Flutes, Harps, and several other musical instruments, such as Lutes or Horns. They are the main weapon of choice of Bards, but are also used by other characters, such as Eiko Carol from Final Fantasy IX.
Appearances
[
]
The Bard job can equip harps. By using the Sing command, it can grant multiple statuses to the party, as well as healing it or damage the enemy party. The Geomancer job can equip bells.
| | |
| --- | --- |
| List of harps: | List of bells: |
Edward is the only one who can equip harps.
List of harps:
Edward is still the only one who can equip harps.
List of harps:
The Bard equips the harps while the Geomancer equips the bells.
| | |
| --- | --- |
| List of harps: | List of bells: |
Cait Sith can equip megaphones as his weapon of choice.
List of instruments:
White Mage Eiko can equip flutes. She attacks using them as blunt physical weapons. Though she plays the flutes when casting magic and during victory poses, this is merely cosmetic.
List of instruments:
Yuna, Rikku, and Paine use microphones as weapons when wearing the Songstress dressphere but cannot actually attack with them unless inflicted with the Berserk status or when using the abilities Mug and Nab Gil.
Bards can equip string and wind instruments, while Geomancers can equip handbells. String instruments increase the radius and effect of the bard's buffing songs, while wind instruments increase the accuracy and effect of the bard's debuffing songs.
List of string instruments:

Harp
Maple Harp
Military Harp
Rose Harp
Ebony Harp
Nursemaid's Harp
Mythic Harp
Sorrowful Harp
Angel Lyre
Cythara Angelica
Blurred Harp
Terpander
Daurdabla

List of wind instruments:

Flute
Hamelin Flute
Angel Flute
Cornette
Piccolo
Traversiere
Faerie Piccolo
Frenzy Fife
Storm Fife
Requiem Flute
Horn
Mary's Horn
Gemshorn

Royal Spearman's Horn
Kingdom Horn
San d'Orian Horn
Oliphant
Crumhorn
Hellish Bugle
Shofar
Harlequin's Horn
Relic Horn
Pyrric Horn
Dynamis Horn
Millennium Horn
Gjallarhorn
Deuce wields a flute as her weapon of choice.
List of instruments:
The Bard can equip harps to use in battle.
List of instruments:
Moogle Animists and nu mou Beastmasters can equip instruments to call animals, or to control them. As such, they are cheaper to purchase in Cadoan and Baguba Port.
List of instruments:
Demon Bell
War Trumpet
Glass Bell
Conch Shell

Aona Flute
Satyr Flute
Blood Strings
Black Quena

Heal Chime
Fell Castanets
Instruments can be equipped by the Beastmaster, Animist, and Bard jobs. They are not particularly powerful.
List of instruments:
Demon Bell
Glass Bell
War Trumpet
Conch Shell

Hurdy-gurdy
Black Quena
Satyr Flute
Grass Flute

Heal Chime
Frigid Viol
Shining Lute
Brilliant Theorbo
Harps can be equipped by all jobs, but are best suited for the Bard, Elementalist, and Musician crowns. Harps give an increase in magic based stats and also deals more damage to flying enemies.
List of harps:
Instruments appear as a type of weapon, equipped by Firion, Bartz, Kefka and Ultimecia. The weapon type includes Bells, harps/lutes and flutes.
List of instruments:
Kefka's exclusive weapons:

Lamia's Flute
Nephilim Flute
Instruments return, and now are also available to Terra and Prishe. This time, instruments also reduce bravery by a slight amount when equipped.
List of instruments:
Diamond Bell
Gaia Bell
Rune Bell
Blessed Bell

Madhura Harp
Dream Harp
Lamia Harp
Tinkerbell

Apollo's Harp
Bell of Alexander
Loki's Lute
Lufenian Lute
Bells and harps can be equipped by the Geomancer, Bard, Moogle, and Pig.
List of instruments: