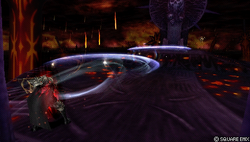 Innocence (イノセンス, Inosensu?) is a recurring ability in the series. It is a physical attack used primarily by Gabranth.
Appearances
[
]
Innocence is an enemy ability used by Gabranth, which deals non-elemental physical damage in an area around Gabranth.
Innocence is an attack used by several gunblade-wielding NPCs, first used by Gaius during the The Praetorium instance dungeon in his fight against the party, hitting a single garget and surrounding characters with three slashes in a wide area in front of him, each slash counting as their own separate attacks. Vitus quo Messalla during his boss fight uses a similar attack called Guilty.
Innocence is a ground HP attack used by Gabranth while in EX Mode, learned at the start of the game. It has no damage type, requires 180 AP to master and 40 CP to equip (20 when mastered), has Ranged High priority, and comes with the Magic Block and Wall Rush effects. Innocence fires four large energy blades at the opponent and can arc up or down to slightly track the opponent. The midair version is learned at level 23, but otherwise remains the same with the addition of Gabranth being able to move during the attack as well as the arc of the blades only moving downward to track the opponent.
Innocence is HP attack for Gabranth while in EX Mode, now requiring 120 AP to master and 30 CP to equip (15 when mastered), but both versions remain the same as in the previous game.
Gallery
[
]