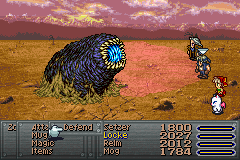 Inhale (すいこみ or 吸い込む, Suikomi or Suikomu?), also known as Engulf, Suck In, and Swallow, is a recurring enemy ability in the Final Fantasy series. It is an ability commonly used by Worm type enemies, such as the Land Worm and Sand Worm.
Appearances
[
]
Inhale is an enemy ability used by Zone Eater, which removes a character from battle, and if all characters are inhaled, it will send the player to the Zone Eater's Belly.
Swallow is an enemy ability used by Abyss Worm, Geosgaeno, Land Worm, and Sand Worm. It inflicts Eject to one target until enough damage has been taken, then they use the ability Regurgitate to spit the party member out, sometimes dealing damage in the case of Geosgaeno. When used, it will remove Dark, Poison, Slow, Berserk, Power Break, Armor Break, Magic Break, Mental Break, Silence, and Zombie from the target.
Wormhole is the ability of the Land Worm, which constantly reduces the foe's bravery, and the farther the player's character is, the greater the reduction.
Suck In is an enemy ability used by Earth Eater, which inflicts major non-elemental physical damage, roughly 1600-2000 HP, and recovers HP equal to the damage dealt.
Gallery
[
]