Cid Pollendina
:
Oh, shut up and help me remodel the Ice Mountain page!
Please expand this article into a full one. The following tasks need to be completed:This request can be discussed on the associated discussion page. Remove this notice upon completion.

White Mage
:
Life's refreshing breeze, blow in energy! Cure!
This article can be improved in areas such as grammar, style, formatting, and spelling.
Please refer to the
Manual of Style
or
editing help
to get started.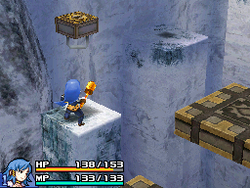 Ice Mountain (氷の山, Kōri no Yama?) is a location in Final Fantasy Crystal Chronicles: Echoes of Time. It is the first place that Larkeicus asks the Hero to go to as part of his archaeological studies. Larkeicus asks the Hero to check out the ruins at the top of the mountain.
The ruins atop the mountain supply energy to the mysterious gate in order to open a bridge to the tower within the game.
Enemies
[
]
Treasures
[
]
Phase 1 - Normal Mode
30 gil
40 gil
50 gil
Blue Stone
Dark Dust
DEF Boost
Iron
Iron Shard
Oak Branch
Red Stone
White Dust
Yellow Stone
Phase 2 and 3 - Normal Mode
40 gil
80 gil
90 gil
Anti-Burn Stone 1
Blue Fay Dust
Blue Stone
Dark Dust
Fire Stone 1
Green Fay Dust
Hard Garnet
Ice Stone 1
Iron
Iron Shard
Ki Gem
Might Malachite
Oak Branch
Red Fay Dust
Red Stone
Silver
Silver Shard
Thunder Stone 1
White Dust
Yellow Fay Dust
Yellow Stone
Gallery
[
]

This section about a location in Final Fantasy Crystal Chronicles: Echoes of Time is empty or needs to be expanded. You can help the Final Fantasy Wiki by expanding it.