Line 1:
Line 1:
 

[[File:FFIX_Ice_Cavern_Title.png|thumb|195px|right|The exterior peaks of the Ice Cavern.]]

 

[[File:FFIX_Ice_Cavern_Title.png|thumb|195px|right|The exterior peaks of the Ice Cavern.]]

 

{{Q|A natural cavern overrun with everlasting ice.|Book in Alexandria Library}}

 

{{Q|A natural cavern overrun with everlasting ice.|Book in Alexandria Library}}

−

The {{nihongo|Ice Cavern|氷の洞窟|Kōri no Dōkutsu}} is a location on the [[Mist Continent]] in ''[[Final Fantasy IX]]''.

+

The {{nihongo|Ice Cavern|氷の洞窟|Kōri no Dōkutsu}} is a location on the [[Mist Continent]] in ''[[Final Fantasy IX]]''.

 
 
 

==Story==

 

==Story==
---
Revision as of 21:45, 8 December 2011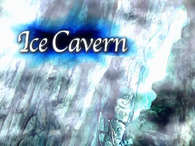 A natural cavern overrun with everlasting ice.

Book in Alexandria Library
The (Ice Cavern, 氷の洞窟?, lit. Kōri no Dōkutsu) is a location just west of the Ceebell River on the Mist Continent in Final Fantasy IX.
Story
Zidane, Garnet, Vivi, and Steiner travel through the Ice Cavern to reach the top of the Mist Continent to find a way above the Mist. Along the way, Vivi uses his magic to melt the ice. However, after a point, a spell puts the party to sleep. Zidane wakes up and has to face Black Waltz No. 1, an enhanced black mage who cast the spell. After defeating him, Zidane wakes up the rest of the party, unaware that Zorn and Thorn are spying on them from an icy upper ledge. At the top of the cave, Zidane informs Garnet that she cannot go wandering around as a princess. Garnet gives herself a new identity, "Dagger," and Zidane teaches her how to act casually, much to Steiner's dismay.
Spoilers end here.
Treasure
Monster formations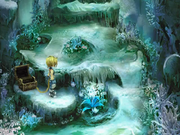 Later in the game
After the mist disappears from the Mist Continent after defeating SoulCage at the Iifa Tree, the ice in the cavern begins to melt. If the party tries to enter, a villager from Dali will prevent them. Alternatively, if the player tries to get in from the cavern's base, a moogle will block the entrance.
Later, in Disc 4, similar to many other places on Gaia, a root from the Iifa Tree has sealed both entrances.
Musical Themes
Template:Listen The theme that plays in the Ice Caverns is called "Ice Caverns".
Community content is available under
CC-BY-SA
unless otherwise noted.