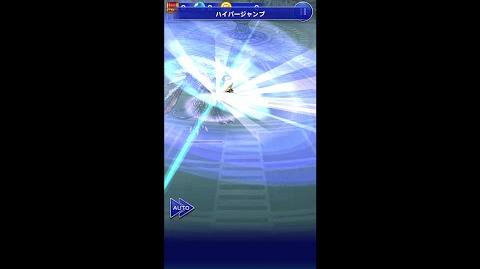 Hyper Jump (ハイパージャンプ, Haipā Janpu?) is a recurring ability originally from Final Fantasy VII. Associated with Cid Highwind and similar to the Dragoon's Jump ability, Hyper Jump consists of a high jump in the air and a smash down on foes with a spear, causing an explosion.
Appearances
Edit
Hyper Jump is one of Cid's level 2 Limit Breaks. It is unlocked by killing 60 enemies with Cid. It deals 31⁄2 damage in an explosion on all enemies once it explodes, with a 20% chance to cause Instant Death.
Hyper Jump as a limit break for Cid.
Hyper Jump is a Soul Break usable by Cid (VII). It is learned from the spear Pole Axe (VII) and vaults Cid high into the air, ending in a four-strike dive against one target. Cid is then granted Haste and his DEF raised for a short period of time.
Community content is available under
CC-BY-SA
unless otherwise noted.