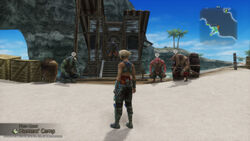 Hunt Club is a late game sidequest in Final Fantasy XII. The club is ran by a group of unruly bangaa hunters out of one of the docked ships in Phon Coast's Hunters' Camp. Rather than Marks, they prefer to hunt the more elusive Rare Game, and sign Vaan up for a chance to hunt for the rarest of enemies and bring back trophies as proof.
After the player completes the events at Draklor Laboratory, they can return to Hunters' Camp and the bangaa will petition Vaan to hunt for trophy Rare Game. To begin, the player must speak with the Huntmaster on the boat behind the three Shady Bangaa.
List of Trophy Rare Game
[
]
There are 31 trophy Rare Game in total, each yielding their own trophy. They will only spawn after the player has started the Hunt Club sidequest by talking to the Huntmaster bangaa at Phon Coast's Hunters' Camp after the storyline events in Draklor.
Like other Rare Game, the trophy game are often difficult to find and have varying spawn conditions, though they differ in that they can only be felled once and do not respawn. Because trophy game tend to have valuable steal items, the player can farm them effectively by leaving and re-entering the area, allowing the loot to replenish.
Rewards
[
]
Outfitters
[
]
The Shifty-Eyed Man in charge of the Outfitters can be found northwest from the Hunt Club bangaa, near some crates. His stock depends on whom the player has given their hunt trophies. Because there are only 30 trophies to turn in, with Thalassinon excluded, it is impossible to unlock everything. The wares also differ between the original PlayStation 2 version and the updated Zodiac versions.
The names of the three bangaa brothers offer a hint as to the type of items the player can gain in the Outfitters by providing them with the Rare Game trophies. Atak (attack) mainly provides weapons. Blok (block) mainly provides armor and shields. Stok (stock) mainly provides accessories.
Original
Zodiac
Reward for collecting all trophies
[
]
Depending on whom the player gives the most trophies to, there will be an additional reward after trading in all 30 trophies. The final rewards are buyable at the Outfitters.
Original
Zodiac
Hunt Club Owner
[
]
The Hunt Club Owner is found in the Highgarden Terrace in Archades. He will reward the player for finding the 31 trophy monsters. Highgarden Terrace is accessible with a Sandalwood Chop, an item granting its owner access to the higher class areas of Archades.