Cid Pollendina
:
Oh, shut up and help me remodel the Humanoid (Final Fantasy XI) page!
Please expand this article into a full one. The following tasks need to be completed:This request can be discussed on the associated discussion page. Remove this notice upon completion.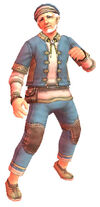 Humanoid is a player-conceived, catch-all category for enemies in Final Fantasy XI that are of the Hume, Elvaan, Tarutaru, Mithra, Galka, or Zilart races. Mannequins are also included in this category.
Types of Humanoids
[
]
Regular Monsters
Notorious Monsters
Adventuring Fellow (bears the name that the player chose for him/her in an earlier quest).
Afrhaad
Alsha
Amnaf
Ark Angel EV
Ark Angel GK
Ark Angel HM
Ark Angel MR
Ark Angel TT
Bompupu
Bopa Greso
Cha Lebagta
Cherukiki
Counselor Gadalar
Counselor Mihli
Counselor Najelith
Counselor Rughadjeen
Counselor Zazarg
Cursed Doppelganger
D. Shantotto
Danzo
Elvaan Automaton
Fantoccini
Five Moons
Galkan Automaton
Gahyaraan
Gorattz
Gowam
Gunther
Habraheem
Hachiryu Armor
Hizamaru Armor
Hkadouf
Hume Automaton
Kam'lanaut
Krinahal
Kukki-Chebukki
Laila
Makki-Chebukki
Menechme
Mithran Automaton
Nicolaus
Oko
Omodaka Armor
Qudeen
Qultada
Raubahn
Renfred
Rohemolipaud
Saizo
Salyhaar
Seed Thrall
Shadow of Rage
Shamarhaan
Shayeeha
Shikaree X
Shikaree Y
Shikaree Z
Tarutaru Automaton
Tatenashi Armor
Tsukikazu Armor
Ubuginu Armor
Ulbrecht
Umarid
Usukane Armor
Varajahl
Yazquhl
Besieged Allies
General Gadalar
General Mihli
General Najelith
General Rughadjeen
General Zazarg
Immortal Guard
Imperial Trooper
Volunteer
Campaign Allies
1st Gold Musketeer
1st Iron Musketeer
1st Legion Aidman
1st Legion Reiter
1st Legionnaire
2nd Legion Grenadier
2nd Legion Scout
2nd Legionnaire
3rd Legionnaire
7th Cohor Legionnaire
8th Iron Musketeer
Adelheid
Aquarian Caster
Aragoneu Knight
Areuhat
Ariesian Caster
Ashmea B Greinner
Bartholomaus
Capricornian Caster
Cerane I Virgaut
Choh Moui
Cobra Mercenary
Combat Salvemixer
Cougar Volunteer
Crimson Wolf Esquire
Crocodile Mercenary
Dalzakk
Degenhard
Dusk Raider
Duskraven
Elivira
Else
Febrenard C Brunnaut
Federation Dispenser
Feldrautte I Rouhent
Ferreous Coffin
Field Musician Guard
Field Woundpatcher
Gariri
Haja Zhwan
Invincible Shield
Iron Ram Knight
Kagetor
Kayeel-Payeel
Kilhwch
Kurt
Laisavie X Berlends
Leonoyne
Lewenhart
Lhu Mhakaracca
Libran Caster
Ludwig
Lutete
Maximilian
Mieuseloir B Enchelles
Mikhe Aryohcha
Noillurie
Norvallen Knight
Nyumomo
Oggbi
Patriarch Protector
Python Mercenary
Red Rose Condottiere
Republic Supplier
Rongelouts N Distaud
Royal Banneret
Royal Esquire
Royal Guard
Royal Knight
Royal Palliator
Royal Provisioner
Scarlet Boar Esquire
Scorpion Caster
Scylla Brigade Elite
Scylla Brigade Healer
Scylla Brigade Officer
Silver Fox Archer
Sonia
Striking Bull
Temple Knight
Ulla
Valaineral R Davilles
Vhino Delkahngo
Wildcat Vanguard
Wildcat Volunteer
Yrvaulair S Cousseraux
Zolku-Azolku
Zonpa-Zippa
Bastion Allies
Bastion Fighter
Bastion Mage
Special Attacks
[
]
Humanoids always come equipped with a Job and may use the spells or abilities available to their jobs.
special job ability: Based on job. Not used by all humanoids.
Weapon Skills: Associated with their equipped weapon.
Edge of Death: Reduces everyone within area of effect to 1 HP if participating in the Feast of Swords event (Feast of Swords NMs only).
Aetheral Toxin: Hits for roughly 2/3 of the target's HP (Feast of Swords NMs only).
Other appearances
[
]
This section in Final Fantasy Trading Card Game is empty or needs to be expanded. You can help the Final Fantasy Wiki by expanding it.

This section about an enemy in Final Fantasy XI is empty or needs to be expanded. You can help the Final Fantasy Wiki by expanding it.