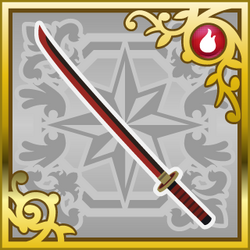 This blade leaves flames as it cuts, making it a very popular item at campsites.

Final Fantasy All the Bravest description
Homura (焔, Homura?) is a recurring weapon in the series.
Appearances
Edit
Homura is a great katana that provides 47 damage, 463 delay, and an additional Fire damage effect. It deals 6.09 damage per second and accumulates 121 TP per second. It can be equipped by level 34 Samurai. It can be bought for 230 Sparks of Eminence from Isakoth in Bastok Markets (E-11), Rolandienne in Southern San d'Oria (G-10), Fhelm Jobeizat in Windurst Woods (J-10), and Eternal Flame in Western Adoulin (H-11).
Homura is a weapon for Paladins. It can be acquired and upgraded to Homura Kai in Rhalgr's Reach by trading tokens that can acquired with Allagan Tomestones, or in the Sigmascape or Ridorana Cataract raids.
Name
Type
iLv
Description
Equip
Patch
Materials
Crafting
Homura
Gladiator's Arm
360

Auto Attack: 76.16
Damage: 102
Delay: 2.24
Magic Damage: 69
Strength: 236
Vitality: 256
Tenacity: 149
critical hit: 213

GLA PLD 70
4.2
Homura Kai
Gladiator's Arm
370

Auto Attack: 77.65
Damage: 104
Delay: 2.24
Magic Damage: 70
Strength: 248
Vitality: 271
Tenacity: 156
critical hit: 222

GLA PLD 70
4.2
Homura is a weapon that provides +6 Attack and can be equipped by Samurai, Ninja, and Auron.
Community content is available under
CC-BY-SA
unless otherwise noted.