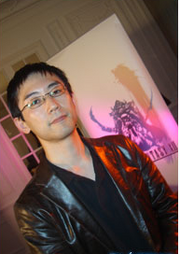 Hiroshi Minagawa (皆川 裕史, Minagawa Hiroshi?) was born in 1970 and is a Japanese game artist and game director who joined Squaresoft (now Square Enix) in 1995. Minagawa is credited as "Nigoro" in his earliest game titles. He is best known as the art director of Final Fantasy Tactics (1997) and Vagrant Story (2000). He was chosen by Yasumi Matsuno as his replacement to co-direct Final Fantasy XII (2006). Minagawa delivered a post-mortem of Final Fantasy XII at the 2007 Game Developers Conference.
In November 2010, Minagawa was asked to join the Final Fantasy XIV (2010) team as Lead UI Designer. This was part of a plan to salvage the game after its overwhelmingly negative reception by critics and players. Director Naoki Yoshida considered the fact that one of the Final Fantasy XII directors was now solely responsible for one aspect of Final Fantasy XIV an indication of how serious Square Enix was about improving the game. The improved game Final Fantasy XIV: A Realm Reborn (2013) was released in August 2013 to critical acclaim. Minagawa has remained a senior member of the Final Fantasy XIV team ever since.
Community content is available under
CC-BY-SA
unless otherwise noted.