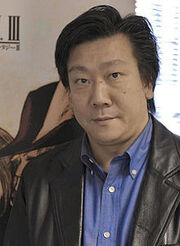 Hiromichi Tanaka (田中 弘道, Tanaka Hiromichi?), born January 7, 1962, was a former Squaresoft and Square Enix game director, producer, designer, and head of the company's Product Development Division-3.
Since dropping out of Yokohama National University in 1983 along with his friend Hironobu Sakaguchi, Tanaka joined the then-fledgling game studio and had a hand in creating the very first Final Fantasy, released in Japan four years later in 1987. Since then, he has been a major part of several company projects, including non-Final Fantasy titles such as Secret of Mana, Xenogears, and Chrono Cross. He was heavily involved in the development of Final Fantasy XI as a producer, and, until December 2010, oversaw development on the series' second major online title, Final Fantasy XIV.
Tanaka announced his departure from Square Enix at the 2012 Vana Fest, citing health problems.
Gameography
[
]
External links
[
]