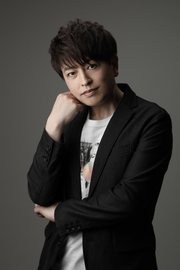 Hikaru Midorikawa (緑川 光, Midorikawa Hikaru?) born May 2, 1968, is a Japanese voice actor from Otawara, Tochigi. He is affiliated with Aoni Production. He voices Firion in the Dissidia Final Fantasy series, Clear in Final Fantasy Unlimited, and a Restrictor in Dirge of Cerberus -Final Fantasy VII-.
Roles
[
]
Related Square Enix projects
[
]
Background
[
]
He is most known for providing voices for Tamahome in Fushigi Yūgi, Akihiko Sanada in the Persona series, Kaede Rukawa in Slam Dunk, Sakamoto in Haven't You Heard? I'm Sakamoto, Marth in the Fire Emblem series, and Heero Yuy in Mobile Suit Gundam Wing.
External links
[
]