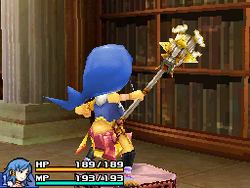 Wielded by the mounted dragoons, it is famous among those who yearn for the sky.
Highwind (ハイウィンド, Haiwindo?), also known as High End, is a recurring spear in the series.
Appearances
[
]
Highwind is a weapon for Kimahri, obtainable when the dominant ability on any spear is Triple Overdrive.
Highwind is a spear for Nine. It provides 63 Attack and doubles EXP.
In the PSP version it can be bought from the SPP Post after being unlocked for 1 ticket on the Square Enix Members site for 20000 SPP and sells for 10000 gil. It can be exchanged for 5 tickets on the Square Enix Members site.
In the HD version, it can be bought after landing 300 Killsight strikes with Nine for 5000 SPP and sells for 2500 gil.
Highwind is a mid-ranked spear for Lilties, which provides 31 Attack and gives access to the Focus Attack Earth-Splitter.
High End is a low to mid-ranked spear that provides 47 Attack, +25 Stun, and has one available slot for jewels. It can be equipped by all races.
The Highwind is a level 100 exclusive weapon for Kain, providing -328 HP, +70 Attack, -1 Defense, Assist Gauge Duration +30%, and Back to the Wall effect. It can be obtained from the shop by trading 182,800 gil, Abel's Lance, Price of Treachery, and Dragoon's Hope x5.
Gallery
[
]
Etymology
[
]
[view · edit · purge]"High wind" is typical of wind speeds that place a seven on the Beaufort scale. When wind travels this fast (approximately 32 to 38 miles per hour), the sea heaps up. Streaks of foam from breaking waves are blown in the direction the wind is traveling, and there are moderate amounts of airborne spray. On land, high wind moves entire trees, and effort is required to walk against it.