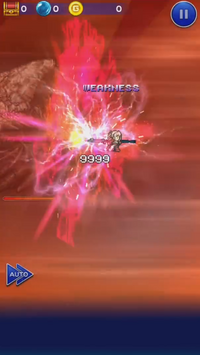 Highwind (エア・スペリオリティ, Ea Superioriti?, lit. Air Superiority) is a recurring ability in the Final Fantasy series. It is an ability used exclusively by Aranea Highwind.
Appearances
Edit
Aranea uses Highwind when she is a guest during Chapter 7 and when she joins the party randomly afterward for battles against daemons and hunts. It can be invoked with the Technique command and costs 2 tech bars to use. It deals damage to one enemy.
Aranea has two Techniques: Highwind is used outdoors, while Dragoon Dive is used indoors. The player can again invoke Aranea to use them with the Technique command, and her Techniques cost 2 tech bars. Aranea downing enemies can make enemies weak for Prompto to use his crackshot for critical damage.
Highwind is Aranea's Overstrike Soul Break, learned from the 6-star relic Stoss Spear. It consumes two Soul Break bars and deals a single-hit physical attack to a single enemy in either Lightning or Dark element, whichever will deal more damage. Its multiplier is increased when the target is weak to either of those damage types. Because Aranea is a dragoon, the damage is jump damage, meaning that it does full damage from the front or back rows, and can strike opponents who are out of reach of melee attacks, while additionally activating boss abilities and phase changes that are triggered by jump attacks. As an Overstrike attack, it can break the usual damage cap, dealing up to 99,999 damage. Mastering Highwind gives Aranea a permanent +10 bonus to the ATK stat.
Etymology
Edit
Highwind is a recurring surname for Dragoons in the series, and also a recurring special attack for Dragoon-type characters. Aranea from Final Fantasy XV is likewise a Dragoon.
[view · edit · purge]"High wind" is typical of wind speeds that place a seven on the Beaufort scale. When wind travels this fast (approximately 32 to 38 miles per hour), the sea heaps up. Streaks of foam from breaking waves are blown in the direction the wind is traveling, and there are moderate amounts of airborne spray. On land, high wind moves entire trees, and effort is required to walk against it.