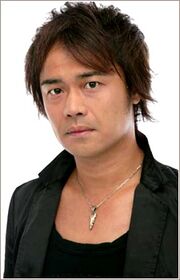 Hideo Ishikawa (石川 英郎, Ishikawa Hideo?) born December 13, 1969) is a Japanese voice actor born in Hyōgo Prefecture, Japan. He works for Aoni Production. He provide voice for Auron in Final Fantasy X and its sequel, Cait Sith in Final Fantasy VII: Advent Children and Dirge of Cerberus -Final Fantasy VII-, Squall Leonhart in Dissidia Final Fantasy and its prequel and Qator Bashtar in Final Fantasy Type-0.
Roles
[
]
Related Square Enix projects
[
]
Background
[
]
He is most known for being voices for Kicchō Fukuda in Slam Dunk, Itachi Uchiha in Naruto, Jūshirō Ukitake in Bleach.
External links
[
]