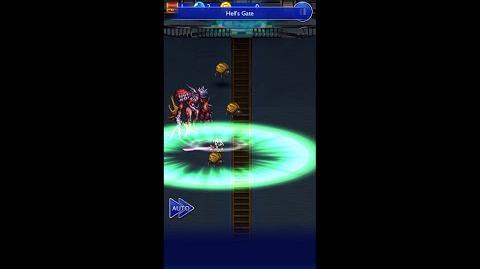 Hell's Gate (獄門, Gokumon?) is a recurring ability in the series. It is an ability used exclusively by Sephiroth, and is modeled after the usage of the ability in Final Fantasy VII.
Appearances
Edit
The final boss uses Hell's Gate as one of his many powerful melee attacks: he strikes the ground and unleashes fissures of energy that can reach all directions and deal damage even if the party dodges the strike, but can still be avoided by watching the length of the spikes and finding the safe space. If he is not staggered in time for the party to send him crashing down, he will use Hell's Gate to send the party crashing down instead.
Hell's Gate is an aerial physical HP Attack for Sephiroth, learned initially. It requires 40 CP to equip (20 when mastered), 300 AP to master, and has Melee High priority. If it's stopped in midair, it will release a shockwave around Sephiroth to hit opponents, and if it connects with the ground, it will create a fissure of stone spikes with high reach that can knock away opponents not hit by the initial attack.
Hell's Gate is a HP Attack for Sephiroth, requiring 30 CP to equip (15 when mastered) and 130 AP to master. If the player holds

, they will rapidly descend downwards towards the ground. If Sephiroth connects with the ground, it will create the same fissure as before, but while descending the player can opt to let go of

to release a shockwave from around Sephiroth.
Hell's Gate returns as one of Sephiroth's Bravery attacks. With the exception of coming out faster, it remains unchanged.
Hell's Gate is a unique Soul Break exclusive to Sephiroth available via Masamune (VII). At the expense of one Soul Gauge segment unleashes a deadly dive from above dealing physical damage to all enemies equal to 336% damage potency of a conventional attack. This ability doesn't ignore rows.
Non-Final Fantasy guest appearancesEdit
Hell's Gate is an ability used by Sephiroth. This technique can be done by being in the Draw Sword Stance, and pressing the Down button.
Etymology
Edit
The Gates of Hell is a monumental sculptural group work by French artist Auguste Rodin that depicts a scene from "The Inferno", the first section of Dante Alighieri's Divine Comedy.
Community content is available under
CC-BY-SA
unless otherwise noted.