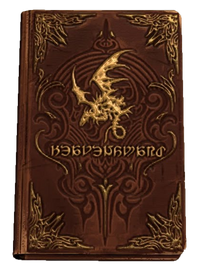 Heavensward (蒼天のイシュガルド, Sōten no Ishugarudo?, lit. Ishgard of the Azure Sky) is a book from Final Fantasy XIV: Heavensward. It is part of the memoirs of Count Edmont de Fortemps, detailing the final days of the Dragonsong War.
Story
[
]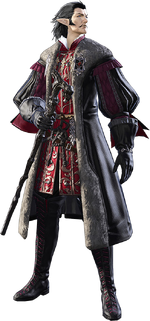 Narrated by the Count de Fortemps himself, excerpts from Heavensward were used as framing devices for the story of the Warrior of Light and their companions as they journeyed through Ishgard and its surrounding territories. After the final battle of the Dragonsong War had concluded, Edmont put the finishing touches on the tome, where it was seen to be but one volume in a large collection of his memoirs.
The book became a bestseller in Sharlayan.
In a future where the Black Rose had brought about an Eighth Umbral Calamity and killed the Warrior of Light, the Crystal Exarch had looked to the past in order to summon a living version of the Warrior to the First, in the hopes of preventing the Calamity from ever occurring. He visited the war-torn Ishgard in order to study the memoir, but determined that the period of history it detailed was too early for his purposes. He would instead pluck the Warrior from a later time, shortly after the liberation of Ala Mhigo.

Excerpts from Heavensward

[

]
Coming to Ishgard
[
]
And so they came, at a friend's behest. Heroes once celebrated as saviors of Eorzea, brought low through treachery, their names blackened with royal blood...

With memories of the lost and dreams of redemption, with hope yet in their hearts, they came...

To Ishgard, shining city on the mount, overlooking the dominion of Coerthas...

A great and proud nation devoted to Halone, the Fury, ruled by Thordan VII, Archbishop of the Ishgardian Orthodox Church...

The last bastion of the faith, her walls ever bristling with the swords and spears of her four High Houses...

A land that after a thousand years of war had forgotten what it meant to be at peace. Through gates long closed the Warrior of Light and [his/her][note 1] companions passed, entering at last a city who's history was written blood. In the midst of the Dragonsong War they came—three weary travelers who's arrival would set in motion great change...

Though none knew then how great...

From the memoirs of Count Edmont de Fortemps
Heavensward
Over the Wall
[
]
To the frozen wastes of the western highlands, once verdant tracts made pallid by the Calamity...

Beyond the towering wall of ice, to lands long forsaken that the knights of Ishgard strove tirelessly to reclaim...

To the hamlet of Falcon's Nest, once abandoned, now free from its pall of snow and ash, [he/she][note 1] came...

From the memoirs of Count Edmont de Fortemps
Heavensward
Onwards and Upwards
[
]
Upon an airship conceived within the fecund mind of Cid Garlond, renegade prodigy of Garlemald who had come to call Eorzea home...

High into the heavens where isles of earth and stone floated as clouds—a frontier the knights of Ishgard had scarce begun to explore...

To a fledgling outpost within the Sea of Clouds where careworn scouts ever scanned the skies for winged shadows, [he/she][note 1] came...

From the memoirs of Count Edmont de Fortemps
Heavensward
Where the Chocobos Roam
[
]
Beyond Abalathia's Spine—the great mountain range that spans the continent of Aldenard from east to west...

Into the deepening shadows of Sohm Al, where lies the ancient home of dragonkind...

To a land where the soil slithers, and the skies seethe with sinuous shapes, they came.

From the memoirs of Count Edmont de Fortemps
Heavensward
Beyond the Clouds
[
]
To the peak of Sohm Al, at the end of a perilous mountain path...

Whence could be seen a string of pearl-like islands, floating impossibly atop a sea of clouds...

To a domain where dragons and men had once lived in harmony, whose majesty no mortal eye had glimpsed for nigh on a thousand years, they came.

From the memoirs of Count Edmont de Fortemps
Heavensward
Into the Blue
[
]
To the northern reaches of the Sea of Clouds, where countless isles yet remained uncharted...

In search of a mysterious land known as Azys Lla, and the unmasked villain who sought to claim its secrets...

Oblivious to the new threat which followed in their wake, they came...

From the memoirs of Count Edmont de Fortemps
Heavensward
A Great New Nation
[
]
To the Thaliak River, where the melted snows of Abalathia's Spine eventually find their way by means of a thousand silver streams...

Whose waters have long since nourished the Dravanian hinterlands, and so provided for a settlement of learned souls from across the northern seas...

To the city of Sharlayan, that great seat of knowledge, now abandoned by her keepers, they came.

From the memoirs of Count Edmont de Fortemps
Heavensward
Heavensward
[
]
So ends a glorious chapter in their tale. However, tumultuous days yet lie ahead for Ishgard. After a thousand years under the yoke of the church, the people take their first tentative steps into the unknown. And though they spy a glimmer of peace upon the horizon, Nidhogg's vengeful shadow yet remains to darken the way. Be that as it may...

So long as the young commander of the Temple Knights and his heroic companions are there to guide them, the people may hold fast to hope—the hope that one day, true peace will return to Ishgard, and that man and dragon may live in harmony once more. Let the deeds written herein never be forgot, that they may inspire generations yet unborn to strive ever heavensward.

From the memoirs of Count Edmont de Fortemps
Heavensward
An Uncertain Future
[
]
In the wake of the archbishop's fall, the nation of Ishgard trembled, the faith of her people shaken to its very core. For a thousand years had they fought and died, certain of the justice of their cause, only to be told that their holy war was born of the sins of their forefathers. What then for those brave men and women, thus stripped of their righteousness, but to despair? To deny the truth and decry its speakers? And what then for those whom they defamed but to hope on? To have faith in a bright tomorrow? A tomorrow in which man and dragon might live in harmony—then as distant as the very stars in the heavens...

Yet while we dared hope, deep within his lair, the enemy lay gathering his strength. Nidhogg, now possessed of his two eyes and the body of the Azure Dragoon—prizes to which he had laid claim at the very hour of the heroes' triumph. As desperately as we sought the solace of peace, the great wyrm craved the misery of war. Nor was he alone in this misbegotten desire...

From the memoirs of Count Edmont de Fortemps
Heavensward
As Goes Light, So Goes Darkness
[
]
Those were the days of promises and vows—of tentative first steps into an uncertain future. A future shaped by the choices we made, in ways we could never have foreseen. Born of good and evil, of light and darkness, and shepherded by our hand. Be it for weal, or be it for woe.

From the memoirs of Count Edmont de Fortemps
Heavensward
Causes and Costs
[
]
Change—that great, inexorable wave—was upon us, and soon all of Ishgard would bend to its will. For all our sins, for all our scars, the future for which we had long yearned was at last within our grasp. But it would be bought at a heavy price. For in those twilight hours did Nidhogg cry out for vengeace, and his brethren raise their voices for the final chorus of the Dragonsong War.

From the memoirs of Count Edmont de Fortemps
Heavensward
The Man Within
[
]
The conference held at Falcon's Nest was to be a celebration of the reconciliation 'twixt man and dragon. But the lingering shade of Nidhogg, clad in the flesh of the Azure Dragoon, did mark the occasion by spilling the blood of his own kind. A timely atrocity to remind the children of Ishgard that the Dragonsong War was far from over...

And when fear gave way to fury, the call to arms rang out anew: "Death to Nidhogg! Death to Nidhogg!"

From the memoirs of Count Edmont de Fortemps
Heavensward
Litany of Peace
[
]
Following the battle with Nidhogg on the Steps of Faith, Ser Aymeric held an assembly that he might make his final proclamation as acting head of state. 'Twas there, with one decree, that the thousand-year rule of the archbishops was ended, paving the way for a new republic. The governance of Ishgard would now be placed in the hands of high- and lowborn alike, their ranks represented by the newly founded House of Lords and House of Commons. Church was seperated from state. The foundation for change had been carefully laid, and the reforms proposed by Ishgard's new government passed into law without incident. His duty done, Aymeric de Borel gladly stepped down from the archbishop's dais...only to be raised unto the highest seat in the House of Lords. Though he strove at first to refuse this honor, the unexpectedly strident voice of the Count de Durendaire left him little choice but to accept...

And so it was that the winds of gentle revolution came to stir. Prominent among the many honored guests at Ser Aymeric's investiture were the ambassadors of dragonkind, a fitting symbol of Ishgard's newfound peace. The people looked on in awe as he soared through the heavens on dragonback, and by their cheers did they hail him an Azure Dragoon for a new age. Thus were the notes of the Dragonsong rewritten, the din of war giving way to a rising litany of peace and hope.

From the memoirs of Count Edmont de Fortemps
Heavensward
Gallery
[
]