Heavensturn is an event on Final Fantasy XIV themed after new year.
Heavensturn 2014
Edit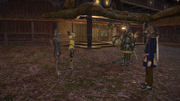 Even the most aether-addled among our readers could not fail to note the approach of another Heavensturn, and this changing of the guard promises to be an extra-auspicious one for Gridania. Our sources on the inside indicate that none other than Nophica, the Matron, is favored to become the god ascendant this year, and I am sure I speak for all dwellers of the Twelveswood when I say, "About time!"

Loyal readers know that this reporter is an absolute martyr to the travel-bug, and has been known to be mistaken for an outlander right here in Eorzea on account of his irrepressible worldliness. So it would surprise you not at all if I told you that our outré friends in the Far East have a custom of naming a totem beast every Heavensturn. Imagine that! This year they have chosen the "horse," a creature so exotic that even I, Oliver Goodfellow, have never encountered its like. Wild rumors may fly of the horse's herbivorous diet and four-leggedness, but fortunately for us, the calm voice of science at the Naturalistic Society tells us that horses are "dyspeptic of disposition and narrow of face, with a shag along its long neck and a repulsive lack of substantial coat elsewhere...as vicious as they are stupid." Huzzah, what a prize!

Now, gentle readers, I know the burning question in all our hearts: what were they thinking? But take it from me, Oliver Goodfellow, that when it comes to outlanders, logic and reasons are not worth seeking, for they do not think as we do! Surely, The Raven is not alone in noting the highly amusing helms sported by these charming barbarians as they take to the streets in a bid to popularize their unspeakable animal. Madcap, indeed!

The Fraternal Order of Chocowackers is said to be none too happy about these goings-on, and unconfirmed reports suggest they have exercised their gods-given right to bar the demon-steed from the Twelveswood. Energetic or excessive? This reporter cannot help but hope that all involved will comport themselves in accordance with the spirit of Heavensturn, and the Twelve bless us, every one!- Oliver Goodfellow
—Event's official description.
[1]
The event ran from Tuesday, December 31, 2013 at 7:00 a.m. – Tuesday, January 14, 2014 at 6:59 a.m. (PST)
Uma Kabuto
Crimson Uma Kabuto
Golden Uma Kabuto
Black Uma Kabuto
Silver Snake Kabuto
Dragon Kabuto
Crimson Dragon Kabuto
Golden Dragon Kabuto
Black Dragon Kabuto
Usagi Kabuto
Silver Usagi Kabuto
Black Usagi Kabuto
Zoni
Heavensturn 2017
Edit
A delegation from the Far East has come to Eorzea to celebrate the advent of the year of the rooster, but it appears their leader is having trouble garnering the local citizens' interest. Spurned─for reasons unbeknownst to him─by each and every person he attempts to approach, the tori bugyo is desperately trying to rectify a Heavensturn festival that may already be beyond salvation.
The event runs from Saturday, December 31, 2016 at 7:00 a.m. to Monday, January 16, 2017 at 6:59 a.m. (PST).
Red Tori Kabuto
Black Tori Kabuto
Happy New Chocobo (furniture)
Heavensturn Orchestrion Roll
References
Edit
Community content is available under
CC-BY-SA
unless otherwise noted.