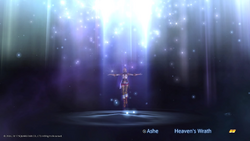 Heaven's Wrath (聖光爆裂斬, Seikō Bakuretsuzan?, lit. Holy Light Exploding Slayer), also localized as Heaven's Fury, is a recurring ability in the series. It is a Quickening for Ashelia B'nargin Dalmasca.
Appearances
[
]
Heaven's Wrath is the Level 2 Quickening for Ashe. It deals damage equal to a random number between 1 and 140 multiplied by Fran's Strength, and costs one Mist Charge to execute.
Heaven's Fury is an ability learned by Ashe's 6★ variant at level 100. It deals magic damage (2.3x) with ignore SPR (25%) to all enemies and heals (1200 HP, 3.4x) all allies.
Gallery
[
]
Etymology
[
]
[view · edit · purge]Heaven is a common religious, cosmological, or transcendent place where heavenly beings such as gods, angels, jinn, saints, or venerated ancestors are said to originate, be enthroned, or to live. According to the beliefs of some religions, heavenly beings can descend to earth or incarnate, and earthly beings can ascend to Heaven in the afterlife, or in exceptional cases enter Heaven alive.
[view · edit · purge]Divine retribution is a general term for "God's wrath", "wrath of God", and "divine wrath". Divine retribution is a supernatural punishment of a person, a group of people, or all humanity by a deity in response to some human action. Many cultures have a story about how a deity exacted punishment on previous inhabitants of their land, causing their doom.
The attack's Japanese name is derived from that of Divine Ruination, an ability from Final Fantasy Tactics.