Hatching-tide is an annual event on Final Fantasy XIV themed after Easter, counterpart of the Egg Hunt event from Final Fantasy XI. The players can obtain different rewards based on the festivity's theme.
It is a recent festivity, created by Jihli Aliapoh after she claimed to have seen the Twelve in dreams on beautifully bedecked eggs with the intention to return. Just like the other annual events, the three city-states of Eorzea and the residential districts (Shirogane included) are decorated for the event.
Relevant characters through the event's editions are Jihli Aliapoh and Riggy.
Profile
In an age of shadow some fifteen centuries past, a colossal flood consumed the realm, ushering in the Sixth Umbral Era. When salvation was thought beyond reach, a band of heroes known as the Twelve Archons stepped forward to banish the darkness. Tales of their bravery have been passed down through the ages, and the tradition of Hatching-tide now serves to preserve the memory of their selfless actions.

The festival was founded several years ago, before the realm fell to ruin in the wake of the Seventh Calamity. An eccentric Miqo'te named Jihli Aliapoh is said to have been visited in her dreams by the Twelve Archons of eld, descending from the heavens atop beautifully bedecked eggs. They spoke unto her a declaration of their return, and she now works tirelessly to see her dream someday turn to reality. Each year countless eggs are gathered and painted in an array of colors with splendid patterns. Though most serve merely as decorations about town, a select few chosen by Jihli and her Dreamers are reserved for Hatching Hour, a grand ceremony in which the chosen eggs are used to summon the Archons back to Eorzea.

Hatching tide is a celebration of fellowship, exemplified by the Dreamers' concerted efforts to amass eggs for the festival. Nevertheless, I could not help but wonder if there is more to their preparations than the ornaments about town. The Dreamers have seen fit to ship eggs to the three city-states, but in sums far greater than last year's festival. The streets should be flooded with eggs, but there is neither hide nor hair of a surplus to be seen. It is my duty to seek the truth for our readers, and to that end, I scoured the taverns and alleyways of Eorzea for word of these wayward eggs. But therein lies the rub, for it would seem this year's celebration has a twist─something to entice newcomers to partake in the egg-centric revelry: a Hatching-tide egg hunt.

With the backing of Black Rabbit Traders, egg shells have been stuffed with a veritable bevy of goods, and hidden in the fields of Eorzea. Considering the dangers that await beyond the city gates, it would stand to reason that this hunt is intended for adventurers. With an insatiable desire for spoils and glory, I can think of no one better to pluck these eggs from their barbarous hiding places.

But to what end do they entice the realm's adventurers with promises of bounty? As Jihli and her Dreamers eagerly await the time of Hatching Hour, perhaps the eggs they covet so dearly will contain the answers we seek. -- Oliver Goodfellow

Event's official description.
Editions and rewards
2011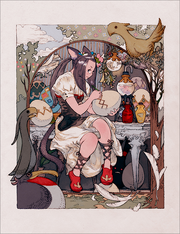 Finally, it's the event we've all been waiting for... Hatching-tide! This time, however, it's not about hiding eggs as much as it is about stealing them! This event is filled to the brim with dark, foreboding lore about the ancient Archons and their inevitable return.
Time: 15 April, 2011 - 9 May, 2011
Rewards:

Gear: Brilliant Egg Cap, Chocobo Egg Cap, Midnight Egg Cap, Pristine Egg Cap, Vibrant Egg Cap
2012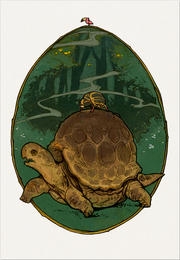 Hatching-tide is here again! And, once again, there are egg-nappers among us. You will be tasked to help locate the missing eggs in order to receive your just rewards!
Time: 28 March, 2012 - 10 April, 2012
Rewards:

Gear: Brilliant Egg Ring, Chocobo Egg Ring, Midnight Egg Ring, Pristine Egg Ring, Vibrant Egg Ring

Achievements: "Eggsceptional Hunting", "Eggstraordinary Hunting", "Eggsemplary Hunting", "Eggstreme Hunting (Legacy)", "Eggstravagant Hunting", "Seven Short of a Dozen"
2014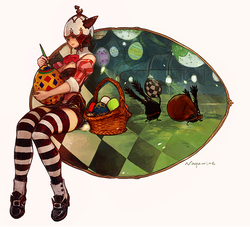 Adventurers Scramble for Eggs
The Calamity has forever altered the realm, but the traditions which unite her peoples remain strong in the face of adversity. As we welcome the gentle breezes and sun-kissed days of spring, so too do we welcome one such tradition come to enliven our spirits: Hatching-tide. Though preparations for the festivities are well underway, an unusual abundance of eggs suggest there is more to this affair than meets the eye. Ever eager to sate the curiosity of his readers, Oliver Goodfellow has wasted no time in investigating this surplus, and its implications for this year's celebration.
Time: 9 April, 2014 - 22 April, 2014
Rewards:

Gear: Brilliant Egg Cap, Chocobo Egg Cap, Midnight Egg Cap, Pristine Egg Cap, Vibrant Egg Cap, Brilliant Egg Ring, Chocobo Egg Ring, Midnight Egg Ring, Pristine Egg Ring, Vibrant Egg Ring
Chocobo: Egg Harnest

Achievement: "Eggstreme Hunting"
2015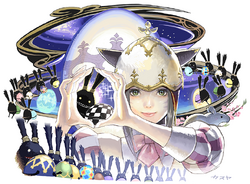 Expect the Uneggspected!
The realm is alive with the vibrance of spring, made vivid with rolling green hills and crystal blue skies. Winter's frigid embrace seems a distant memory, soon forgotten as we welcome springtime's most joyous celebration: Hatching-tide. Jihli Aliapoh, founder of the festival, has been blessed with yet another premonition, and has worked tirelessly to see her dream made manifest. Festival preparations are nearly complete, save for the revelry of adventurers seen in her vision. Those who yearn for the gaiety of spring need search no longer. Pray seek out this Gridanian merrymaker, and experience the magic that is Hatching-tide!
Time: 2 April, 2015 - 15 April, 2015
Rewards:

Gear: Brilliant Egg Earrings, Egg Earrings, Midnight Egg Earrings, Vibrant Egg Earrings
Furnishing: Egg Floor Lamp

Achievement: "Eggspialidocious"

Title: Half-boiled Hero (M) / Half-boiled Heroine (F)
2016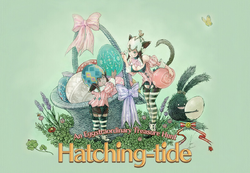 An Eggstraordinary Treasure Hunt
Spring: that wonderful season of renewal and rebirth. A time when buds blossom into flowers and dreams blossom into reality. What then will become of the realm's biggest dreamer─Jihli Aliapoh of Gridania─as she prepares for the spring festival of Hatching-tide? Blessed with a vision from the Twelve Archons, she now seeks adventurers from all corners of the realm who would take part in the festivities, and rejoice in the return of these legendary heroes.
Time: 15 March, 2016 - 28 March, 2016
Rewards:

Gear: Spriggan Cap
Minion: Dust Bunny
Chocobo: Egg Hunter Barding
Furnishing: Archon Egg Tower
Orchestrion Rolls: Pa-Paya

Achievement: "Even Eggs Fall from Trees"
2017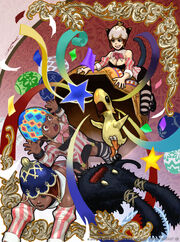 A Celebration of Fright and Eggcitement
Though winter's chill would still cling to the lands of Eorzea, the sun-kissed days and gentle breezes of spring are on the horizon. This return to warmth and bloom also marks the coming of this season's most beloved tradition─Hatching-tide. Festival preparations are well underway, and Jihli Aliapoh, blessed with a vision from the Twelve Archons, is hopeful her dreams will soon be made reality. Adventurers who would partake in the eggs and excitement of this joyous celebration need only travel to Gridania, and seek out this mirthful merrymaker.
Time: 4 April, 2017 - 17 April, 2017
Rewards:

Mount: Eggshilaration System
Furnishing: Eggstravagant Interior Wall

Achievement: "Kindred Surprise"
2018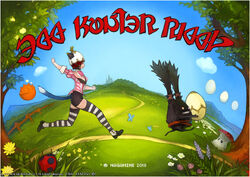 Track down the stolen eggs!
The season for Hatching-tide is upon us once more! Crowds of merrymakers descend upon Gridania, dreams of decorated eggs dancing in their heads. But more than any other, it is Jihli Aliapoh's dream─a vision blessed by the Twelve Archons─which will chart the course for this year's celebrations. Adventurers are encouraged to lend a hand in the festival preparations, for who better to handle the unexpected...?
Time: 20 March, 2018 - 2 April, 2018
Rewards:

Minion: Motley Egg
Furnishing: Hatching-tide Banner
Items: Spriggan Chocolate, Magicked Prism (Hatching-tide)

Achievement: "Eggsit Stage Left"
2019
Join the shell-ebration!!
Hatching-tide will soon make its return to Eorzea! The city-states and residential districts have been dressed once more in vibrant colors and striking decorations for the occasion. With each celebration based on Jihli Aliapoh's mysterious dreams, what lies in store this year?
Time: 9 April, 2019 - 22 April, 2019
Rewards:

Gear: Spriggan Set
Furnishing: Archon Egg Pile, Eggcentric Crown Roast, Eggcentric Chocolate Cake

Achievement: "Eggspedia"
2020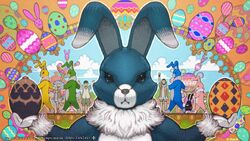 A Hare-raising Hatching-tide!
Hatching-tide is upon us once again, and the revelrous rabbit in Mih Khetto's Amphitheatre would share the joy of this wondrous celebration with one and all.
Time: 30 March, 2020 - 13 April, 2020
Rewards:

Gear: Rabbit Set
Furnishing: Stuffed Rabbit, Hatching-tide Advertisement

Achievement: "Egg-hunter and Egg-hunted"
2021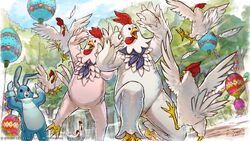 A cracking good time!
Guided by the visions of Jihli Aliapoh, Hatching-tide returns this year to engulf the realm in its joyous mayhem. The city-states will be festooned with colorful decorations, setting the stage for yet another round of eggciting revelry!
Time: 14 April, 2021 - 28 April, 2021
Quests:
Rewards:

Gear: Chicken Set
Furnishing: Hatching-tide Confections, Archon Egg Pouch

Achievement: "A Fowl Temper"
2022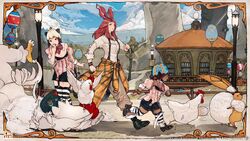 A Hippity, Hoppity, Happy Hatching-tide!
Spring into action this Hatching-tide to deliver the citizens of Gridania an egg-ceptional extravaganza! Only an adventurer such as yourself can help make all of Jihli Aliapoh's hippiest, happiest dreams come true─although you may have to ruffle a few feathers along the way.
Time: 13 April, 2022 - 27 April, 2022
Quests:
Rewards:

Minion: Hatching Bunny
Emote: Eat Egg
Furnishing: Eggsemplary Basket, Hatching-tide Mobile

Achievement: "-"
FATEs
Name
Level
Location
Time limit
Objective
Description
Spawn conditions (if any)
2014


What's Yours is Mine

14-50
Central Shroud (x14 y25)
3 minutes
Defeat the coddled spriggans.
23-50
Upper La Noscea (x9 y21)
23-50
Western Thanalan (x14 y6)
31-50
Southern Thanalan (x14 y38)
32-50
Eastern La Noscea (x20 y32)
34-50
South Shroud (x21 y29)
A band of spriggans have spoiled this year's egg hunt, stealing all the eggs and the various goodies they hold. Retrieve the eggs, and see that no present is left unopened.

Spawn conditions:


Defeat a coddled spriggan in the area.

2014


Eggcelsior

41-46
Western La Noscea (x12 y36)
15 minutes
Defeat the scrambling spriggan.
44-49
Eastern Thanalan (x36 y21)
46-50
Coerthas Central Highlands (x14 y31)
You know what they say about spriggans with big eggs: they have big prizes. Now go and get it!
2015


Gloria in Eggcelsis

5-10
Central Thanalan (x24 y30)


Eastern Thanalan (x17 y23)
Lower La Noscea (x19 y35)
Middle La Noscea (x21 y18)
North Shroud (x27 y21)

15 minutes
Defeat the enormous egg.
Don your most sable of spriggan suits and crack, crush, shatter, and smash your way into Hatching-tide history. Leave no enormous egg unscrambled.
2016


Eggstract and Eggspedite

1-60
Old Gridania (x10 y6, x11 y8, x12 y6)
1 minute
Deliver Archon eggs to the spriggan eggstractor.
Seeking to recapture a lucid dream she had, Jihli Aliapoh has hidden Archon eggs throughout the quarter and employed her most restless spriggan to oversee a frivolous hunt. Snatch up as many as you can and deliver them to the spriggan before the hunt ends as abruptly as the dream did.
2020


A Cluckin' Catastrophe

15-80
Central Shroud (x25 y29)
15 minutes
Capture chickens.
The Dreamers' precious chickens have flown the coop, placing this year's Hatching–tide in grave peril. Procure a rabbit suit from the helpmeet, then use sticky birdlime to slow their frantic flapping before seizing them and returning them to their rightful home.

Spawn conditions:


Speak with the Hatching-tide helpmeet.

2020


Rabbits in a Row

15-80
Old Gridania (x6 y8)
10 minutes
Join the procession and give gifts to the Gridanian children.
The highlight of the Hatching–tide festivities draws nigh! Join your fellow revelers to bring joy in the form of lovingly decorated eggs to the children of Gridania.

Spawn conditions:


Speak with the Hatching-tide helpmeet.

2021


An Eggsistential Threat

10
Old Gridania (x1.9 y7.2)
1 minute
Deliver the freshly-laid eggs to the Hatching-tide helpmeet.
The hens in the Dreamer's Run have finally begun laying their eggs. Collect these freshly laid treasures from the nests while steering clear of the rambunctious roosters.

Spawn conditions:


Speak with the Hatching-tide helpmeet.
Trivia
The rewards of the 2011 and 2012 editions reappeared in the 2014 edition, after the game's relaunch.