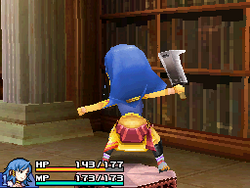 Everyday tool used for chopping firewood and clearing brush. Too heavy to swing easily.

Description, Final Fantasy Crystal Chronicles: Ring of Fates and Final Fantasy Crystal Chronicles: Echoes of Time.
Hatchet (薪割りのナタ, Makiwari no Nata?) is a recurring weapon in the series. It is generally one of the weakest axes in the games that it appears in, providing low base power and no special effects.
Appearances
Hatchet is the initial weapon of Yuri and for Clavats at the start of the game. It provides 10 Strength and can be bought for 110 gil or created through the Novice's Weapon scroll.
Hatchet is the weakest axe in the game, providing 12 attack and 1 slot. It can be purchased for 225 gil.
Gallery